Conan's Mexico special sheds light on the absurdity of physical and political borders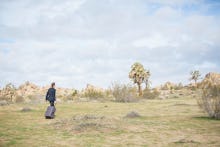 In an ever-changing late night scene, Conan O'Brien — now, the longest-tenured host on TBS' titular Conan — has stayed relevant with what he's done outside the confines of his studio. He plays video games with celebrities that hone in on his improvisational humor and genuine ineptitude at playing any of the games in question. Instead of focusing on the Republican National Convention and Donald Trump back in July, he geeked out at San Diego Comic-Con. Most of all, his international specials are hilarious, informative and subtly political (the message, typically, is emphasizing and celebrating globalism). 
That subtlety is thrown out the window for O'Brien's latest international special, Conan Without Borders: Made in Mexico, and for good reason. The special, which aired Wednesday night, comes in the early stages of Trump's presidency; a man who has infamously called Mexicans entering the United States illegally "bad hombres" and has proposed building an expensive border wall that Mexico will, eventually — supposedly — pay for. In that spirit, Conan's Mexico special starts with the host trying to get through the border when he's stopped by Mexican border patrol. After checking his passport the border agents don't seem to recognize him, so he shows them a video of his signature String Dance on his phone. 
"Clearly, they're not sending us their best," one says in Spanish, with a very obvious Trump dig. O'Brien is upset, letting them know that they can't lump all Americans together — "that's stereotyping." Cue the irony, and a hilarious baggage search that leads to the agents finding a Trump-branded towel behind all of O'Brien's sunscreen. 
The Mexico special takes place in Mexico City, with a full Mexican staff and audience in the studio, and O'Brien begins by going through his opening monologue in Spanish. He looks genuinely nervous, but the jokes land with an audience that clearly admires that he's giving it a shot. Again, Trump's border wall becomes a punchline.  
"Of course everybody here is upset about the wall," he says in Spanish, as the crowd loudly boos. "I know all the harm that a wall can cause. My wife built one that divides our bed." 
O'Brien's special did include several remote segments, including a cameo on a telenovela, Lucha Libre wrestling and asking for border wall donations on the streets of Mexico City. The latter was obviously politically charged, and these sentiments were doubled-down in a profanity-laced interview with former Mexican president Vicente Fox. Fox has been vocal about the absurdity of Trump's border wall, and true to form, brought O'Brien a boot with the message "No Fucking Wall" labeled across it. In one of the interviews quieter moments, O'Brien expresses his own appreciation for Mexican culture. 
"I live in Los Angeles, and I've said this before but you cannot walk three feet in Los Angeles and not be made aware of the incredible cultural contributions — food, art, architecture — that have been made by Mexicans, and so, it's very silly," he says. "We are already together. We are already together and that is not going to change." 
O'Brien's Mexico special — and its unifying message — shouldn't come as a huge surprise to fans who have watched his previous international specials. He visited Cuba before the travel ban was lifted, connected with Syrian refugees in Armenia in what he called "one of the greatest experiences of my life" and checked out the North Korean border with The Walking Dead's Steven Yuen. O'Brien's effectiveness at exploring different cultures harps back to his self-deprecating humor. He doesn't mock; he's consistently the butt of the jokes, rather than the people and countries he visits. 
At a time when a reality television host with a slew of failed businesses can be elected to the highest office in the U.S., O'Brien is a pretty good, if not unconventional, international ambassador.
You can watch all of Conan Without Borders: Made in Mexico over at Team Coco.