Kendrick Lamar's "urgent" new album will be for his community's resistance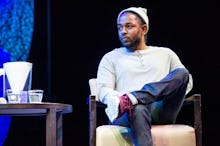 There has been no official title or release date revealed, but Kendrick Lamar has confirmed that he has a new album in the works. In an interview with T magazine, the recording artist shared that the record is an "urgent" project made with his community in mind. 
"I think now, how wayward things have gone within the past few months, my focus is ultimately going back to my community and the other communities around the world where they're doing the groundwork," he explained in the interview.  
On the new opus he will be taking a different approach than what he offered on 2015's To Pimp a Butterfly, his third studio album. The album was critically acclaimed and one of its singles, "Alright," became an anthem at Black Lives Matter protests. 
"To Pimp a Butterfly was addressing the problem. I'm in a space now where I'm not addressing the problem anymore," he said. "We're in a time where we exclude one major component out of this whole thing called life: God. Nobody speaks on it because it's almost in conflict with what's going on in the world when you talk about politics and government and the system."
When asked if he would be grappling with this context on the new record he simply replied, "It's very urgent." 
It is no surprise that Lamar is very exact about the ideas he will be presenting on his next album. The Compton artist's musical content has evolved with each project, each one encapsulating very specific concepts. On his debut Section.80, he grapples with youthful angst and the plight and flaws of his generation. On Good Kid, M.A.A.D City, he brings listeners on a cinematic autobiographical journey through his native Compton. The storyline depicts people and scenarios from the environment of his formative years. To Pimp a Butterfly is more introspective, with Lamar taking a preachy stance on black politics and culture.  
While on tour following the release of Good Kid, M.A.A.D City, Lamar had a revelation about his music. He thought the topics he explored would only be understood by those from his native California, but realized his music still maintained a universal human appeal. 
"And I couldn't understand it, because I'm like, how can you connect to this? How can you connect to a feeling like you're locked in a box because of the gang culture?," he told T, "And one particular fan broke it down to me: 'I connect through your music not because I know about the gang culture; it's the sense of wanting to be set free.'"
This month marks two years since Lamar released To Pimp a Butterfly, so it will be interesting to hear how the rapper has further grown in his approach and how he will make further connections with listeners in his new music.
Mic has ongoing Kendrick Lamar coverage. Please follow our Kendrick Lamar hub here.