After luxe Oscars parties, hundreds of homeless people dined on celebrity leftovers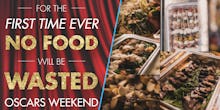 The Oscars — full of designer dresses, expensive swag bags and over-the-top stunts like bags of candy falling from the ceiling — isn't exactly the type of event where you'd think people care about wasting food. 
Yet after stars like Emma Stone and Viola Davis dined on short ribs, taro root tacos, gold-dusted truffle popcorn and other fancy foods, the untouched leftovers were whisked away and redistributed to hungry Los Angeles residents. 
Thanks to actress Freida Pinto, no piece of lavish party food went to waste this year. The actress joined forces with Copia, a food recovery startup, to ensure the luxe leftovers from several of the Oscars weekend parties could be given to LA residents in need of food. 
Pinto posted to her Instagram that the food from one Oscars pre-party was given to the LA LGBT Center, which is located just 3.3 miles away from the Women in Film event she attended. 
"The stark reality between excess and access is exactly what makes this one of the world's dumbest problems and the reason I started Copia as a necessary disruption through technological innovation," Copia founder Komal Ahmad told Salon, explaining that she used to think hunger was a developing world problem. 
" Copia recovered more than enough gourmet food to feed over 1000 people Oscars weekend," a Copia spokesperson said in an email. "Copia recovered surplus food from the Women in Film pre-Oscars party, the Spirit Awards, and the Vanity Fair after party." The spokesperson noted that food from the Governors Ball, the official after party, was recovered by Chefs to End Hunger, a nonprofit that redistributes excess party food, 
Los Angeles is a prime example of an urban area that could greatly benefit from some redistribution. Though the city is crawling with celebrities, it's actually riddled with food deserts as well, and it has the largest population of food-insecure people in the U.S., Mic previously reported. Just under 1.5 million people — and one in four children — are considered food insecure, meaning they don't have access to nutritious food. 
Here are a few close-ups of the sumptuous offerings Puck's team cooked up for the Oscars official after party: 
Here's a photo of the food packed up and ready to be redistributed. 
Less food wasted and fewer hungry people in LA? Unlike the Oscars, everyone won when Copia and Pinto rescued that festive feast from going to the landfill. 
March 6, 11:45 a.m.: This article has been updated.