Chaffetz, other top Republicans call for Sessions' recusal from Trump-Russia investigation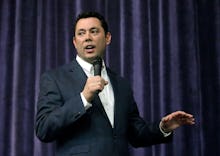 Top House Republicans on Thursday called for Attorney General Jeff Sessions to recuse himself from Justice Department investigations into President Donald Trump and his campaign's links to Russia amid its alleged efforts to interfere with the 2016 presidential election.
Rep. Jason Chaffetz, the Utah Republican and chair of the powerful Oversight and Government Reform Committee, tweeted that Sessions should both "clarify his testimony" from his Senate confirmation hearings — in which Sessions apparently lied about his communication with Russian Ambassador Sergey Kislyak — and called for Sessions to "recuse himself" from any investigation into Trump or his campaign's potential ties to Russia.
Chaffetz's call for Sessions to recuse himself is a far cry from his past comments on investigating Trump's Russian links.
After former national security adviser Mike Flynn resigned over misleading statements about his own communication with Kislyak, Chaffetz denied the need for further congressional investigation into the incident, telling reporters the situation was "taking care of itself."
Chaffetz is not the only top Republican to call for Sessions' recusal.
House Majority Leader Kevin McCarthy, the second in command to Speaker Paul Ryan, also called for Sessions to recuse himself.
"I don't have all the information in front of me, I don't want to prejudge, but I just think for any investigation going forward, you want to make sure everybody trusts the investigation," McCarthy told MSNBC's Morning Joe. 
"I think it'd be easier" if he recused himself, McCarthy added.
Congressional Democrats are taking it a step further, calling for Sessions' resignation.
"We are far past recusal," House Minority Leader Nancy Pelosi tweeted. "Jeff #Sessions lied under oath. Anything less than resignation or removal from office is unacceptable."