No Love for RiRi: The 1 word that has Rihanna's fragrance at the center of a new lawsuit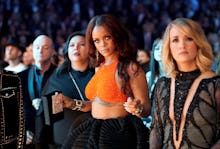 Since putting out her first fragrance, Reb'l Fleur, in 2010, Rihanna has released a whopping 10 signature scents. But it's her latest perfume, Kiss, that has the flask-toting singer in hot water.
As first reported by the Fashion Law, Rihanna is being sued by global beauty brand Kiss Nails Products, Inc. alleging trademark infringement.
Kiss is suing both the owner and manager of Rihanna's intellectual property, Roraj Trade LLC, and a manufacturer and distributer of her fragrances, Parlux Fragrances, The impending lawsuit contains three claims: willful trademark infringement, false designation of origin and unfair competition.
According to Kiss (the nail company, not the fragrance, nor the band, nor the 1963 Andy Warhol film, nor the Hershey's candy, nor the radio station) it "has used the unique and distinctive mark 'kiss' to identify its products for more than 27 years," mentioning notable clients and platforms such as Christian Siriano and O, the Oprah Magazine.
Though Rihanna's fragrance is new, Kiss claims their trademark registration dates back 24 years. They also make mention of Rihanna's usage of "#kiss" in social media posts used to promote her fragrance. (The hashtag, it should be noted, culls over 28 million posts, few of which feature Rihanna nor Kiss Nails.)
According to the Fashion Law, Kiss claims that despite notifying the defendants in late January, they "have not stopped selling or offering for sale the Kiss fragrance, and it is still available for sale as of the date of this filing."
So do they have any grounds? "I doubt that consumers would believe Rihanna's product is actually a Kiss Nails product because it clearly says 'by Rihanna' right on the bottle," Nakia D. Hansen, IP attorney at Odegard Law in Brooklyn, said in an interview. "The logos are quite different as well. So why might Kiss Nails be doing this? Well it's not unusual for beauty brands to have both perfume and nail care under their product umbrellas (think Chanel or Yves St. Laurent). Perhaps they have plans to expand into the fragrance market and want to prevent Rihanna's Kiss from stealing the shine before they have a chance to launch."
As for the hashtag issue, Hansen said this is DOA. "It's very difficult to stop others from using a particular tag both legally and practically. The tag #kiss is so generic that it couldn't possibly function to identify Kiss Nails or even Rihanna's fragrance specifically."
At present, Kiss is seeking a permanent injunction and monetary relief of an amount to be determined at trial. 
Though Rihanna has yet to publicly respond — and likely won't — we'd like to imagine her response via this 2011 tweet: