Indiana Synagogue Shooting: Investigation underway at Temple Adath B'Nai Israel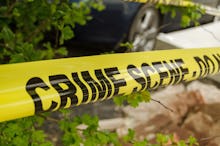 Sometime before Monday afternoon, the office manager at Temple Adath B'Nai Israel, a synagogue in Evansville, Indiana, discovered that someone appeared to have fired a gun straight into one of the synagogue's windows, the Indy Star reported. No one was injured, but, according to Rabbi Gary Mazo, the act of violence was clearly intended to send a message.
"The goal was to make us afraid, but we're not going to let fear consume us," Mazo told the Star. "We'll stand up to fear, we'll stand up to hatred and we'll stand together. We know this is not representative of our community. We know that we live in a community that supports each other."
The synagogue, which serves a congregation of around 140 families, reported the incident to the police on Tuesday. On Wednesday, Evansville Police Department spokesperson Jason Cullum told the Huffington Post that the FBI wasn't actively involved in the investigation but was aware of the attack.
Indiana is one of five states without hate crime laws. On Tuesday, the state legislature voted not to move forward a bill that would have introduced tougher sentencing options for "crimes motivated by race, religion, sex, disability, gender identity or sexual orientation," the Star reported. Cullum told the Huffington Post that policing are entertaining the "the possibility" of Monday's apparent shooting being a hate crime, "but at this point we have not collected enough information to classify it as a hate crime," he said. Officials are also reportedly still investigating what kind of "projectile" the attacker used.
Lonnie Nasatir, the Anti-Defamation League's Regional Director for the Upper Midwest region, which includes Indiana, said on Thursday that the apparent shooting exemplifies the importance of hate crime legislation. 
"For us, it's a powerful message that law enforcement and communities care about vulnerable communities," Nasatir said in a phone call. The ADL has been working for more than a decade to help pass hate crime legislation in Indiana, he said. Without it, local authorities can't bring a hate crime charge in the attack on Temple Adath B'Nai Israel. "It would have to be done by the feds," Nasatir said.
Speaking about the incident on Tuesday, Mazo pointed out that for the apparent shot to hit the window that it did, the attacker would have had to stand in the synagogue's playground, facing into a classroom. "It was to inflict damage, but I think more importantly, [the person] tried to inflict fear," Mazo told the Star. "We're in this climate now where acts of hate are happening everywhere."
The apparent shooting comes amid a wave of anti-Semitic crimes targeting Jewish people and organizations across the United States, including a rash of bomb threats called into Jewish community centers and the desecration of graves at Jewish cemeteries in Pennsylvania and Missouri.
But the attacks have also inspired a wave of support from interfaith allies: A fundraiser started by Muslim Americans raised more than $150,000 for the Jewish cemetery that was vandalized in Missouri, and several Muslim service members have volunteered to serve guard duty for their local Jewish cemeteries and synagogues.
Mazo said that Temple Adath B'Nai Israel had experienced a similar outpouring of support in the days since the damage was discovered, saying that other local religious leaders had reached out directly. "We have a very tight-knit interfaith community," he told the Star. "We do a lot of good interfaith work together, and we support one another. It's very much appreciated."
March 2, 2017, 3:31 p.m.: This story has been updated