'Bachelor' alum Kaitlyn Bristowe accuses show creator of favoring male stars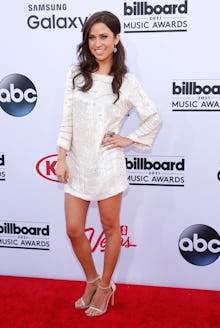 Kaitlyn Bristowe, alum of The Bachelor and The Bachelorette, wants equal treatment for everyone both on and off the show, and she isn't afraid to share her opinions. 
Bristowe has accused The Bachelor creator Mike Fleiss of forbidding her from appearing on Dancing With the Stars — even though numerous male alumni of the franchise have participated in the dance competition show. 
"My hope in speaking out is that future Bachelorettes are given the same opportunity as Bachelors," Bristowe told Entertainment Tonight. "Whether it be a wedding, to dance, or another show. (Ben [Higgins] had the decision to do dancing or his own show.) Just to be treated the same — to choose whatever will make them happy."
Future TV opportunities is hardly the only difference between the men and women in the reality TV franchise. An examination of the costs that contestants have to shoulder reveal startling discrepancies (even more startling when the general pay gap between genders is taken into account), especially regarding clothing and beauty products. The presentation of female sexuality has also been called into question with regards to The Bachelorette. 
He said, she said
Bristowe and Fleiss began exchanging barbs on Twitter on Feb. 27, after rumors began circulating that Bachelor alumni Nick Viall would compete on DWTS. 
Viall's spot on the show was officially confirmed March 1. He will be joining former Bachelors-turned-dancers Jake Pavelka, Sean Lowe and Chris Soules. Former Bachelor contestant Whitney Bischoff then took to Twitter, asking why Bristowe hadn't been on the show yet. 
Bristowe shared she was offered a spot on the hit dance show, but she said she was forbidden to appear. 
It was confirmed that Bristowe did receive an offer to compete on the dance show in 2015. E! News reported a source saying, "The timing isn't right, but she loves the show and hopes to keep the door open for another season down the road."
Talent doesn't matter
Fleiss had hinted at Viall's DWTS casting, tweeting, "The official historic announcement regarding #TheBachelor is coming shortly..." He joked that the announcement qualified as "historic" because of The Bachelor season 21 star's lack of dance talents, which were witnessed on the show when Viall and his castmates performed with the Backstreet Boys. 
In contrast, Bristowe has taught dance classes and even gave an impromptu lesson on an episode of The Bachelorette. 
Only two Bachelorette alums have previously competed on the Dancing With the Stars: Melissa Rycroft and Trista Sutter. 
Following the exchange on Twitter, Fleiss expressed support for Bristowe competing on Dancing With the Stars, to which Bristowe responded with sarcasm: 
Why now? 
Bristowe explained to ET why she went public with her story. 
"I believe men and women should be afforded the same opportunities," she said. "That has not been the case with The Bachelorettes and The Bachelors. I had an offer to do Dancing With the Stars and was told by [Bachelor creator] Mike [Fleiss] I could not. I was told by Mike that it is bad for his brand, and that he is sick of people wanting fame from his show."
"I am a dancer and wanted to do it, [my fiancé] Shawn [Booth] wanted me to as well," she continued. "He even wrote Mike emails. I told Mike it was my passion. I was told Shawn should be my only passion." 
Mic has ongoing The Bachelorette coverage. Please follow our main Bachelorette hub.