15 recipes to cook in March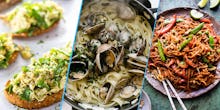 For those who suffer through actual seasons (though it seems that population may be dwindling), the countdown is still on until regional, local produce offers spring-like ingredients again. Still, it's not too early to jump into spring cooking. Use up the last of your winter root vegetables and the boneless chicken breasts you've been freezing since that big post-New Year's sale, and reset your kitchen in time for actual spring! Here's what to cook in March. 
Crispy eggplant "bacon" 
You don't have to be a vegan to fall in love with this smoky, crunchy, meat-free bacon. Get the recipe here. 
Unicorn hot chocolate
The weather may still be blustery enough to justify whipping up a hot rainbow drink. Take advantage of any opportunity to make unicorn hot chocolate — it won't be cool by the time cold weather rolls around again next fall. Get the recipe here. 
Orange marmalade skillet roasted chicken breasts
Orange you glad you bought those chicken breasts three months ago? In a season that's still lacking for fresh produce, citrus and fresh herbs bring a brightness to this tasty chicken dish. Get the recipe here. 
Tagliatelle with clams and garlic
Seafood with pasta is always in season. Get the recipe here. 
Garlic butter capellini pomodoro with shrimp
See above for our pasta and seafood rationalization. But really, you can't go wrong with this shrimp and spaghetti recipe. Get the recipe here. 
30-minute pork scallopini with lemons and capers
In a meal-prep rush? This one comes together quickly and is truly satisfying. Better yet, you can stock up on the ingredients weeks in advance to have them as back-up when you need a quick dinner. Get the recipe here. 
Singapore sweet potato noodles
The veggie-noodle craze will never die. Break that spiralizer out and make these tasty, soy-coated non-noodle noodles. Get the recipe here. 
Pad see ew
While it's still chilly enough to cozy up and order in, learn to make your favorite Thai takeout order in the comfort of your kitchen. Get the recipe here. 
White bean artichoke basil toasts
Before avocado season returns in full force, make some other veggie-topped toasts, like this savory white bean and artichoke one for breakfast, lunch, dinner and snacking! Get the recipe here. 
Instant Pot Chipotle barbacoa copycat burrito
While you're still obsessed with anything that can be cooked in your Instant Pot, transform your kitchen into a Chipotle restaurant with this quick burrito recipe. Get the recipe here. 
Thai salmon in foil
Just a quick marinade and a turn in the oven makes this easy-to-prep, easy-to-clean-up salmon the perfect weeknight meal. Get the recipe here. 
Slow roasted sweet potatoes with garlic chickpeas and blue cheese sauce
Think sweet potatoes are bland? Think again. These dressed-up sweet potatoes get crunchy texture from the chickpeas, and the blue cheese sauce adds another level of flavor to this vegetarian-friendly dish. Get the recipe here. 
Springtime Cobb salad
Nothing signals the start of spring like a fresh, bountiful salad! Get the recipe here.
Broccoli, cheddar and spinach frittata
March is going to be an egg-sellent month, especially if you whip up one of these on a weekend morning. Get the recipe here.