What the Sessions-Russia scandal means for establishment Dems' efforts against Trump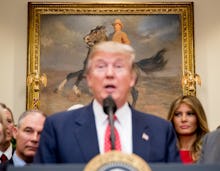 "You don't impeach someone because you don't like their policy," House minority leader Rep. Nancy Pelosi said Monday at the National Press Club in a pre-rebuttal to President Donald Trump's joint session speech. "When you break the law, that's when you have grounds for impeachment." 
And therein lies the question for many: Has Trump — with his maverick political stylings — broken the law? And if not, is it only a matter of time before he does?
For Trump, Russia is a heavy cloud. This controversy, among his many, is perhaps most likely to threaten his presidency. Opponents question his cozy ties with Russian President Vladimir Putin, who allegedly ordered Russian intelligence to hack Clinton campaign emails in order to sway the presidential election in Trump's favor.
Every week it seems Trump is shadowed by a new Russia-related scandal. On Wednesday night, the Washington Post published a damning story on Trump's attorney general, Jeff Sessions, reporting he met with Russian Ambassador to the United States Sergey Kislyak twice during the presidential campaign — once in September, during the thick of Russia's alleged cyber crusade. 
Sessions said under oath, during his Senate confirmation hearings, that he had no contact with Russia. 
A swelling number of politicians are calling for Sessions to resign over what could ultimately be deemed perjury.
Massachusetts Sen. Elizabeth Warren called both for his resignation and an independent investigation into the relationship between Russia and the White House. 
There is already an ongoing investigation led by the Justice Department into ties between Russia and the Trump campaign. This latest scandal has prompted a bushel of politicians — even top Republicans — to demand Sessions recuse himself from the investigation. Rep. Jason Chaffetz, chair of the influential Oversight and Government Reform Committee, is one such Republican.
Sessions' saga is a familiar tale, as Trump administration history swiftly repeats itself: Just weeks before, national security adviser Michael Flynn was forced to resigned after news broke that he had spoken to Kislyak before the presidential inauguration — on this occasion about Russian sanctions. And Flynn also offered "alternative facts" regarding his contact, chiefly saying he'd had none.
Around the same time, U.S. officials asserted the Trump campaign staff had contact with Russian spies during the election. Shortly after, the Trump team was caught violating communication rules by pressuring the FBI to refute the allegations. 
While these misconducts have not directly implicated Trump thus far, they seem to be inching closer as each new scandal encourages more inquiry, digging deeper into how close the ties between the president and Putin really are. Assembled teams probe into whether Trump colluded with Putin in manipulating the elections and whether or not Trump has lied about the extent and nature of these ties. 
On Monday, Pelosi drew a parallel between the Trump administration's misinformation and former-President George W. Bush's regarding the Iraq War, suggesting willfully misleading the public might warrant impeachment.
"Perhaps misrepresenting [information] to the American people is cause for impeachment — if so, there's plenty of grounds right now with the current president," she said.
Trump currently has the protection of a Republican-majority Congress, which is thwarting Democrats' attempts to further scrutinize the White House-Russian cocktail and its attendant investigation.
Meanwhile, members of the Democratic party may well be mounting a case against the president.
"We're trying to unite the country," Pelosi added. "Many of his supporters are just not ready to accept the fact that their judgement might not have been so great in voting for him. And by the time the case [for impeachment] is made, perhaps they'll be ready to accept that."