Steve Bannon and US Islamophobia have become fodder for Al Qaeda terrorist propaganda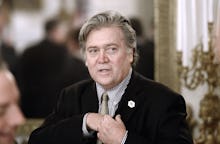 Steve Bannon — sometimes credited as one of the architects of President Donald Trump's initial immigration executive order — has found himself on the cover of Al Qaeda-affiliated newspaper al-Masra, ThinkProgress reported Wednesday.
The paper — which is available in a safe PDF form — features a photo of Bannon under a headline that reads "The war is with Islam as a religion." The story reportedly uses negative comments Bannon has made against Islam as evidence for America's anti-Islamic leanings. ThinkProgress argues that Bannon's face in the paper "shows how policies forged by his nationalist policies support the notion that the West and Islam are incompatible – a narrative pushed not only by the White House, but by groups like Al Qaeda and ISIS."
Elisabeth Kendall, a senior research fellow in Arabic and Islamic studies at Oxford University, told ThinkProgress that "America is clearly becoming a more prominent target." She said: "Trump has created an upsurge in militant jihadist attention on America — it was previously on America but also on many other targets like Shiites in Yemen, Iraq and even Syria — but this has really refocused attention on America itself."
Kendall also noted a significant uptick in coverage of America in al-Masra, stating that there have been more than twice as many mentions of the word "American" in the paper's February 2017 issue as there were in its first issue, which came out in January 2016.
A recent report by Politico found that ISIS fighters initially saw Donald Trump as just another politician. But as his nationalist leanings — along with those of by Bannon and White House aide Stephen Miller — became more clear, and after his executive order that many saw as an outright Muslim ban, jihadists viewed Trump as representative of the true beliefs of most Americans. Instead of past presidents who have endeavored to separate the concept of terrorism from Muslims and Islam, Politico notes, Trump comfortably creates a direct link between them.
Throughout his campaign, Trump insisted that threats posed by what he called "radical Islamic terrorists" represented a grave danger to Americans. Last month, Reuters reported that Trump has sought to change the focus of a program designed to target all instances of violence carried out in the U.S. —including those committed by white supremacists — to only focus on "radical Islamic extremism." During his joint address to Congress on Tuesday, Trump argued that the source of terrorism in the U.S. stems from "extremists" attempting to enter America:
We cannot allow a beachhead of terrorism to form inside America. We cannot allow our nation to become a sanctuary for extremists. That is why my administration has been working on improved vetting procedures, and we will shortly take new steps to keep our nation safe — and to keep out those who would do us harm.
Politico spoke with ISIS fighters about their view of Trump. A Canadian ISIS fighter told Politico, "I think he is good for us ... We need someone like him, who is direct."
In late January, former jihadist Abu Abdullah told CNN that Trump's executive order "can play into [ISIS] propaganda, to make it clear for anyone who could be in doubt that it's a war on Islam and all Muslims." Abu Obaida, a former Jabhat al-Nusra fighter in Syria, also told CNN that Trump has helped ISIS, saying "He's basically being a tool for them in a way."
Charlie Winter — a senior fellow at the International Centre for the Study of Radicalisation and Political Violence at King's College — told CNN that Trump's travel ban is "far more potent than any video or other piece of propaganda" ISIS could create themselves. Of the narrative Trump is helping ISIS build, Winter said, "He's a caricature of the evil crusader that they want to convince everyone exists."
That reasoning seems to have resonated with Trump's newest national security advisor, Lt. Gen. H.R. McMaster. The New York Times reported McMaster recently told staff at the National Security Council to avoid the label "radical Islamic terrorism" because terrorists are "un-Islamic." McMaster reportedly repeated this sentiment to Trump ahead of his joint address. Trump ultimately ignored McMaster's advice, according to the Washington Post.