Sportscaster Dale Hansen defends trans student wrestler Mack Beggs in amazing takedown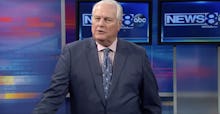 This sportscaster just took transphobia to the mat. 
In a two-minute address posted to Facebook, Texas WFAA sportscaster Dale Hansen came to the defense of Mack Beggs, a 17-year-old trans wrestler who has been forced to compete against female wrestlers even though he identifies as male. 
Hansen pleaded for the powers that be to look past Beggs' birth certificate and instead realize how unfair this is for Beggs and his competitors. 
"As I said when I wrote about Missouri football player Michael Sam, I'm not always comfortable when a man tells me he's gay," Hansen said. "I don't understand his world. But I do understand he's a part of mine. And I am saying the same thing now about Mack Beggs." 
He continued, "Transitioning is a struggle I cannot imagine. It is a journey I could not make." 
Hansen said that Beggs "needs our support" and doesn't need a "group of old men in Austin" telling him who he can wrestle due to his gender identity. 
"You don't have to understand — I don't understand," Hansen continued. "But Mack Beggs is not the problem so many people make him out to be. He's a child simply looking for his place in the world, and a chance to compete in the world." 
In an interview with Mic, Beggs said that most people, unlike Hansen, don't want to understand what it means to be trans and would rather make assumptions about him and his presence in the women's wrestling league. 
"They didn't even ask, 'Hey, what's the situation with this?'" Beggs said. "They just assumed. And that affected those girls who forfeited. ... They took them away from wrestling and they took me away from my competition."
Beggs said he hopes to be able to wrestle men, though the state's University Interscholastic League's policy mandating that athletes wrestle based on their birth certificate gender will stay in place for his senior year. 
Maybe Hansen's words will have an affect on that "group of old men in Austin."