Venezuela Currency Crisis 2017: Country's reserves down to last $10 billion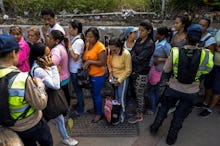 Data from cash-strapped Venezuela's central bank shows that the country has just $10.5 billion left in its reserves, CNN Money reports. Combined with the fact that the country still owes $7.2 billion in debt obligations by the end of the year, the math is extremely bleak.
The oil-rich nation has faced crippling economic insecurity in recent years after its currency, the bolivar, went into free fall as a result of hyperinflation caused by widespread government corruption and the falling global price of oil. 
To combat inflation, the Venezuelan government has pumped more bolivars into circulation, forcing civilians to cart wheelbarrows full of cash around in some instances in order to pay for simple goods. But the country, unable to import food, medicine and other essentials, finds itself in the midst of a humanitarian nightmare in which the aisles of supermarkets lay barren and civilians languish in bread lines.
"The question is: Where is the floor?" Siobhan Morden, head of Latin America fixed-income strategy at Nomura Holdings, told CNN Money. "If oil prices stagnate and foreign reserves reach zero, then the clock is going to start on a default."
Looming default
In 2011, CNN Money reports, Venezuelan reserves held an estimated $30 billion. By 2015, that number had dwindled to just $20 billion. According to the New York Times, at this point, default "can only be postponed, not avoided."
With recent reports claiming that about three-quarters of Venezuelans have lost an average of 19 pounds as a result of the country's food shortages, it seems likely that no matter what the country's economic future holds, civilians are poised to suffer the most.