7 hit songs you didn't know Ed Sheeran wrote for other artists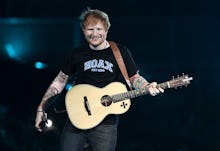 Ed Sheeran is well known for writing his own hit singles. From songs like "Thinking Out Loud" to his newest single "Eraser," Sheeran's writing talent has made him a household name and an international pop star. 
The highly anticipated release of his new album Divide has us excited to have new Sheeran music. We don't have to go far though to discover music by him.
When he's not crafting his own hits, he's writing songs for other artists. He's worked with his friends like Justin Bieber and Taylor Swift and surprising artists like the Weeknd and even Hilary Duff. Sheeran isn't selfish when it comes to his songwriting talent and he isn't limited to a specific genre. Sheeran has even managed to rack up some of his biggest hits by writing for other artists. Here are seven of them:
Justin Bieber, "Love Yourself"
The Grammy-nominated "Love Yourself" became a Justin Bieber classic thanks to Sheeran's lyrics. Sheeran originally wrote for the break-up track for his own album but gave it to Bieber for his album Purpose. The song is too catchy to resist and became inescapable, as it blew up on the radio and earned Bieber another No. 1 on the Billboard Hot 100. Here's hoping they team up again.
The Weeknd, "Dark Times"
The Weeknd and Sheeran made magic together. The song "Dark Times" for the Weeknd's album Beauty Behind the Madness is a great pairing of the two songwriters. It may not seem like Sheeran's earnest lyrics would work with the Weeknd's chill sound, but it does.
Taylor Swift featuring Ed Sheeran, "Everything Has Changed"
This list would not be complete with an inclusion of his best friend Swift. Sheeran and Swift teamed up for the song "Everything Has Changed" for Swift's Red album. The song is a touching ode to friendship, and the video features a young Swift and Sheeran that are too cute for words. The song reached No. 32 for the duo, earning another top 50 hit on the Billboard Hot 100 for both of them.
Hilary Duff, "Tattoo"
Sheeran also works with unexpected artists. Take his song "Tattoo" that he wrote for Duff's comeback album. It's a classic Sheeran song from the melody to the lyrics and Duff's voice sounds angelic overtop. 
For her comeback record, Breathe In. Breathe Out., Duff said she wanted to collaborate with Sheeran because she is a big fan. She's such a fan, she lost sleep for him.
"He had been doing a promo day in LA and he's like, 'I know you have a 2-year-old, but could you please come and record at midnight?'" Duff told MTV News. "I was like, 'I've already been in bed for three hours by midnight on most nights,' but of course for him I did, and I'm such a huge fan. He's so talented."
One Direction, "Little Things"
Of course Sheeran wrote a song for One Direction. The U.K. artists teamed up and made a sweet piece of British-pop heaven with "Little Things." The track is off One Direction's album Take Me Home and it reached No. 33 on the Billboard Hot 100. 
Major Lazer featuring Justin Bieber and MØ, "Cold Water"
One of Sheeran's biggest hits is a song he isn't featured on. Sheeran veered into the tropical house genre alongside Diplo's Major Lazer but doesn't really remember writing it. 
Sheeran told Billboard it happened during a busy songwriting period. "'Cold Water' was a weird one because I didn't even know that song existed," he said. "It was a song I must've half-written somewhere at a time where I was writing a lot of songs." So when Diplo called praising it and asking if he could have it, Sheeran agreed but still wasn't sure he'd actually written it. 
The song was a smash, reaching No. 2 on the Billboard Hot 100. With Bieber and singer MØ providing the vocals, Sheeran proved he's not bound to one genre.
Jessie Ware, "Say You Love Me"
A pairing that makes sense is Sheeran and Jessie Ware — the two are skilled at writing and singing songs focusing on the many issues of being in love. The two singer-songwriters came together and crafted the moving song "Say You Love Me" for Ware's album Tough Love.
Mic has ongoing Ed Sheeran coverage. Please follow our main Ed Sheeran hub here.