Next 'Pokémon Go' Event: Increased Snorlax spawns are coming to one Japanese city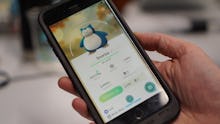 When it comes to events in Pokémon Go, it's been a real whirlwind of a week. From the start of the Pokémon Day event to a developer comment at the DICE Awards about "saving your candies," a lot of players have been wondering what's next for Niantic's mobile game. 
Naturally, when the Japanese Pokémon Go account tweeted out a picture of Snorlax with the dates 3/4 and 3/13 in it, people got excited that this was the next Pokémon event. Even without an official word from Niantic, people assumed a Snorlax event was coming soon
However, the real reason the Japanese account broke the news is because this is a special Japan-only event designed to stimulate tourism in the Kumamoto Prefecture, which was recently hit by large earthquakes. In that way, it's similar to the Lapras event last year that sought to help stimulate tourism in the Fukushima Prefecture.
Next Pokémon Go event: What to expect from the Snorlax event
On The Silph Road, Redditor hastytaste provided a rough translation of the tweet. Here's what is says, according to Google Translate:
In the whole area of Kumamoto prefecture and in Oita prefecture Yufu city, Beppu city, information that cabigon becomes easy to show up has arrived. Was it raised by Pokemon? This phenomenon seems to continue from 3/4 to 3/13! There are areas and places where local reconstruction work is continuing. Do not enter a dangerous place, please enjoy Kumamoto, Oita!
Cabigon (or Kabigon) is the Japanese name for Snorlax, according to Bulbapedia. It's hard to miss the reference to "dangerous place" in the above translation, making it pretty obvious that this is a disaster-relief event.
"These events are being held in locations that have been devastated by natural disasters," Japanese Reddit user crosswithyou explained. "Both the Tohoku region (Lapras event) and Kumamoto, Yufu and Beppu where this upcoming Snorlax event will be held were hit by very large earthquakes which caused a lot of damage." 
Some posters were disappointed that it was a Japan-only event, and others questioned the tact of having a Pokémon that causes earthquakes spawn in an area that was just hit by an earthquake, but obviously these are small potatoes compared to what's happened in the Kumamoto Prefecture.
"If this is what it takes to get a rare spawn event," crosswithyou explained, "be glad that you're not having one in your hometown..."
The Kumamoto Snorlax event begins on March 4 and ends on March 13. So if by some chance you're in Japan and want to help revitalize local tourism to the Prefecture, there's your window. Everyone else will just have to wait until the announcement of the next global event.
More Pokémon Go guides, tips and tricks
If you're booting up the game for the first time in a while to get ready for Gen 2, be sure to check out Mic's guides on how to get stardust, how to determine how long it will take you to reach level 40, the kind of Pokémon you get from 10km eggs, how to create new PokéStops, how to maximize your chances of catching Pokémon and how PokéStops distribute Pokémon eggs. Also check out how to catch Gen 2 baby Pokémon, our analysis of post-balance update Chansey and Rhydon and everything you need to know about finding the long-awaited Pokémon Ditto.