Will 'One Day at a Time' season 2 be renewed by Netflix?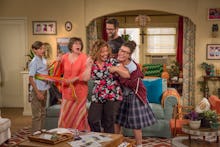 One of 2017's surprise early TV hits was One Day at a Time, Netflix's smart, sensitive and progressive reboot of Norman Lear's 1970s sitcom. What differentiates Netflix's version, however, is that it diversifies the cast and explores a Cuban-American single mother and her relationship with her two children and more traditional-minded mother. 
Given its critical success and a progressive view on the American family, we've been waiting with baited breath to hear if Netflix will renew the series for a second season. And while the network has yet to confirm a new season, things are looking good for the Latino sitcom. 
One Day At A Time season two news
On Tuesday, TVLine founder Michael Ausiello addressed the future of the series in his "Ask Ausiello" column.
Netflix doesn't play by traditional TV rules when it comes to renewals (or even cancellations for that matter). But as I've said before, 'One Day At A Time' will be back for a second season. In fact, I'd wager a 10-spot that we'll hear about a pickup before the next 'Ask Ausiello' drops. 
Another of the streaming service's sitcoms, Fuller House, was renewed for a third season shortly after its second premiered in early 2017. The third is also slated for a 2017 release. On the other hand, it took the streaming service nearly two months to renew their sci-fi show The OA. Each show appears to be different. 
So while Ausiello's views are not a confirmation, it's not too late for One Day At A Time, and — if anything — it would be disappointing for Netflix not to move forward with the series, especially after all the groundwork it laid in its first season, particularly in the final episode.
The finale closes at 15-year-old Elena's quinceañera. She has just told her father that she is gay and he bails on her during the father-daughter dance. As a result, Elena's mother, brother, grandmother and other family members take his place. It's a heartwarming finale, and one that still opens the story up for more episodes. 
Justina Machado, who plays Elena's mother Penelope, took to Twitter in early February to express her hope for a renewal.
But until we hear from Netflix, we'll just have to keep our fingers crossed. 
Mic has ongoing coverage on everything Netflix-related. For more information, check out our Netflix hub here.