'FIFA 17' UD Las Palmas: 5 reasons the La Liga club is great to control in career mode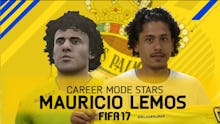 On March 1, UD Las Palmas battled La Liga powerhouse Real Madrid to a 3-3 draw, showing promise for the future of the football club. Las Palmas dropped its first four La Liga matches, but if you scan their roster, it's filled with not just youth but potential. The two make for the perfect mix when creating a challenging FIFA 17 career mode experience.
Here are five reasons to consider UD Las Palmas as your team in FIFA 17 career mode.
FIFA 17 UD Las Palmas career mode team: Young Stars
If you're going to fully enjoy a career mode experience, it helps to grow your club from a noncontender to a threat. Young stars do this; Las Palmas has them.
Center Back Mauricio Lemos is just 21 years old and already rated an 80 overall. Equally rated is the 24-year-old left wing, Jesé Rodríguez.
Locking down those two for the future or using them to acquire valuable pieces on the transfer market could solidify or jumpstart your efforts.
FIFA 17 UD Las Palmas career mode team: Depth
Guys like Lemos, Jesé, Javi Varas and Jonathan Viera lead the way, but Las Palmas has solid depth for a rebuilding club. The group has seven midfielders rated at 79 or above, and none of them are as old as 30. In fact, Alen Halilovi? is rated a 79 and he's just 20 years old.
FIFA 17 UD Las Palmas career mode team: Sprinkle of Veterans
You don't want a team packed exclusively with young players. There should be a balance and Las Palmas has a little of that with Varas, 29-year-old midfielder Kevin-Prince Boateng and others.
Other clubs looking for veteran experience are sure to see these players as assets on the transfer market.
FIFA 17 UD Las Palmas career mode team: Clear Challenges
While there are positives on this club, there's also a clear area of opportunity: goalkeepers aren't in a favorable condition. Varas is solid at an 82, but he's 34 in age.
His backup, Raúl Lizoain is only 26, but overall he's also rated a modest 71. Scouring the transfer market and developmental regions for a young goalkeeper should be the first thing on your agenda if you become manager of UD Las Palmas.
FIFA 17 UD Las Palmas career mode team: Tough League
La Liga is a tough league, which means you'll have a hard time winning at first. 
Playing in a league at this caliber also means you'll have an opportunity to compete against some of the best players in the world, like Real Madrid's Cristiano Ronaldo and Gareth Bale, as well as FC Barcelona's Lionel Messi and Luis Suárez.
The presence of top-notch clubs should provide a barometer for success.
More sports gaming news and updates
Are you a sports gamer? Check out more content from Mic, including news on Tips on leveling up your NBA 2K17 MyPlayer, Playing QB in Madden 17 and the latest information on MLB The Show 17.