'Borderlands 3' Release Date News: Gearbox teases new game in GDC tech demo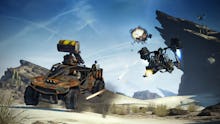 It's been several years since we last got a proper Borderlands sequel, with Destiny filling the loot shooter hole in many players' hearts in the meantime. Thankfully, the wait for a Borderlands 3 release date might not last too much longer.
Borderlands 3 shows up in Unreal Engine tech demo at GDC
On March 1 at the Game Developers Conference in San Francisco, Gearbox Software CEO Randy Pitchford gave a talk about how the next Borderlands game will utilize Unreal Engine 4 to power its loot shooter mayhem. Pitchford took the audience through several Unreal Engine tech demos showing familiar-looking Borderlands environments. Thankfully, IGN has video of the whole thing:
According to Polygon, Pitchford made sure not to insinuate that any of this footage is actually from an upcoming video game. But come on: That's obviously Borderlands 3.
Keep in mind as you watch that video that it was intended for an audience of developers rather than press or fans. That means it's a whole lot of "Check out how the lighting works on these crates in the corner of a room!" rather than substantive gameplay footage. The most juicy thing we see is a human character with their face concealed. That could be a playable character in Borderlands 3 — or it could be nothing.
The saving grace is here is there isn't a ton of room for speculation on our part. Pitchford himself confirmed that Gearbox's next game once they're finished with the tepidly received MOBA shooter Battleborn will be Borderlands 3. So it's safe to assume the game is in development and it'll look something like what we're seeing here.
Unfortunately, all we know about Borderlands 3 is that it's coming — we don't even have an official name. It will probably release on PlayStation 4, Xbox One and PC. It will not be coming to Nintendo Switch. We'll let you know as soon as we hear more about it.
More gaming news
Check out the latest from Mic, including our deep dive into how female Overwatch players are dealing with online harassment; a cool Easter egg in the latest Pokémon Go update; and everything that comes in the $300 Shadows of War: Mithril Edition.