'Pretty Little Liars' creator reveals the scene she considers the "true birth" of the show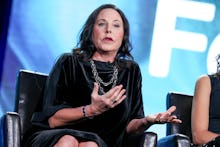 Pretty Little Liars, the murder mystery chronicling the lives of impossibly stylish and duplicitous young women, will begin its final season in April. Following an incredibly suspenseful summer finale, the last 10 episodes will air on Freeform — and in anticipation, series showrunner I. Marlene King has been taking a trip down memory lane by watching older episodes and sharing her emotions with fans. 
King recently shared a clip from the series' pilot, calling it "the true birth of the show." The scene, which took place at the end of the first episode, showed a body being carried from a house. The four main characters thought the body was that of their friend Alison, who had been missing for a year, and immediately rushed to each other's side. 
Pretty Little Liars follows the adventures of four close friends — played by Ashley Benson, Lucy Hale, Shay Mitchell and Troian Bellisario — as they're blackmailed, stalked and harassed by an anonymous person who knows all their secrets. The fiercely loyal friendship between the quartet has been the thread tying together the often outrageous storylines, which have included teacher-student relationships, arson, gender transition and kidnapping.
The girls have embarked on endless adventures since first reuniting over Alison's presumed death, and the popular series saw them facing an even more threatening villain they call Uber A — whose identity, and much more, is promised to be revealed in the final 10 episodes. 
The second half of Pretty Little Liars season seven will premiere on Freeform on Tuesday, April 18.
Mic has ongoing Pretty Little Liars coverage. Please follow our main Pretty Little Liars hub.