Donated to charity through PayPal? That charity may not have gotten the money, suit says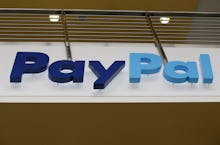 If you've ever given money to a particular charity through PayPal, you may want to follow up with them to make sure they actually got the cash: A class-action lawsuit alleges that hundreds of thousands of charities never received donations intended for them, according to the New York Times. 
The suit alleges PayPal used specific charities to promote a new feature, the Giving Fund, which the Times reports processed more than $7 billion in philanthropic contributions last year. But apparently not all the charities that appeared in the promotional emails had actually set up Giving Fund accounts. If they didn't, the lawsuit alleges, PayPal would redirect the funds to another relevant charity.
Crucially, donors say they were never notified. 
That could put them into tax trouble if they tried to write-off the money. If you have no idea where your charitable dollars ended up, you can hardly be expected to come up with the receipts. 
Donor Terry Kass, who is named in the suit, told the Times she didn't figure the whole thing out until she attended a meeting for a specific legal aid clinic where she is on the board. When Kass wasn't included on any donor lists, she realized something must be wrong, since her donation was $2,500. 
In a statement to Mic, PayPal wrote: "PayPal recently became aware of this filing related to our holiday giving campaign and we are reviewing the contents. To be clear, PayPal Giving Fund has not redirected any of the charitable gifts donated during our holiday campaign."
PayPal added, "When PayPal Giving Fund receives a donation to benefit a charity that hasn't enrolled, we contact the charity to notify them of the gift and help them enroll. PayPal Giving Fund does not hold any donations in interest bearing accounts, and therefore earns no interest on any charitable donations. We are disappointed by the lawsuit and we are fully prepared to defend ourselves vigorously in this matter."
What's the best way to give to charity?
If you decide to donate to a charity, it's best to concentrate your giving toward a cause and organization you know well, as opposed to trying to spread your limited philanthropic dollars around. This makes it easier to do research on the company you're giving money to, for one, and also ensures that your gift goes further. 
Most reputable charities will also distribute annual reports to their donors, which you can request if they're not sent to you automatically — this will help you keep abreast of the organization's financial health and what it's spending your money on.
A search using watchdog groups like CharityWatch and Charity Navigator can also help you keep track of common fundraising scams. These groups have been criticized by some for focusing more on money and not enough on outcomes, but can provide a quick snapshot to ensure your dollars are going to good work. 
Lastly, you don't have to have extra money in order to help people, or even qualify for tax benefits. If you donate used clothes to a Goodwill, for instance, you can write off the value of the donation.
Be sure to ask for a price list, since this will help you back up your donations with Uncle Sam.
March 2, 2017, 2:28p.m. Eastern: This story has been updated with comment from PayPal.
Sign up for The Payoff — your weekly crash course on how to live your best financial life. Additionally, for all your burning money questions, check out Mic's credit, savings, career, investing and health care hubs for more information — that pays off.