Xbox Scorpio Price and Release Date News: Phil Spencer teases pre-E3 reveal of new console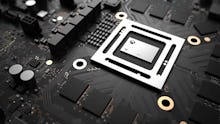 The Nintendo Switch comes out March 3, but it isn't the only new game console coming out in 2017. We still have much to learn about the upcoming Project Scorpio, a beefed up Xbox One with VR capabilities.
Microsoft's answer to PlayStation 4 Pro still hasn't been shown off in public, and we have no idea what games will support it or what that will look like. But in an interview on IGN's Unlocked podcast, Xbox head Phil Spencer offered a tiny bit more information on when we can expect to see Scorpio.
Xbox Scorpio price and release date: Expect a pre-E3 reveal
The podcast is an hour long, but the good folks at the NeoGAF forums have written up the most important tidbits from Spencer's interview. Most importantly, Spencer hints at a major reveal ahead of the Electronics Entertainment Expo for the new console, rather than revealing it at the show itself. In other words, that means we will probably see Project Scorpio before Microsoft's E3 press briefing on June 11. 
That makes sense, as both the Xbox One and PS4 were revealed at similar standalone events in 2013, so the companies could focus more on games at E3 later in the year. Perhaps Microsoft can show us what Scorpio looks like, give us an idea of what it can do and maybe even reveal the price or release date before E3. That would free them up to focus entirely on games and not hardware at the expo itself.
Project Scorpio is expected to launch in time for the 2017 holiday season. Spencer has repeatedly referred to it as a "premium" device for players who care about things like increased teraflops and 4K resolution. Since it's supposedly going to be the most powerful home console ever made, expect it to cost at least as much if not more than the PS4 Pro's $400 price tag. 
We'll find out more in just a few short months. Stay tuned to Mic for news on Project Scorpio and more.
More gaming news
Check out the latest from Mic, including our deep dive into how female Overwatch players are dealing with online harassment, a cool Easter egg in the latest Pokémon Go update and everything that comes in the $300 Shadows of War: Mithril Edition.