Trump Approval Rating: Here's how public sentiment has changed since Trump's inauguration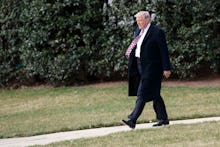 President Donald Trump is continuing to have a tough time winning over Americans, with his approval ratings still clocking in at historic lows.
Trump's approval rating a month into his presidency was 40%, according to Gallup — significantly lower than the average approval rating in mid-February for new presidents, which is 61%.
The president's approval rating in general has not been high. A week before his inauguration, Trump was historically unpopular — a sentiment that sustained itself leading up to the inauguration. 
On the weekend of his inauguration, Trump managed to have the lowest initial approval rating of any president in Gallup's polling history: 45%. According to Gallup, he was the first elected president to begin a term with an approval rating below 50%.
Pew Research Center data indicates Trump has high support from Republicans, but their support alone hasn't been able to dig Trump out of his approval deficit.