Muslim internment camp flyers found all over University of California San Diego campus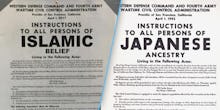 Flyers about Muslim internment camps were posted throughout campus at the University of California-San Diego on Wednesday, NBC San Diego reported.
Titled "INSTRUCTIONS TO ALL PERSONS OF ISLAMIC BELIEF," the flyer read ordered the evacuation of Muslims from the San Diego County area.
The flyers are a near-replica of posters that appeared after the bombing of Pearl Harbor when President Franklin Delano Roosevelt signed an executive order to round up Japanese-Americans and force them into internment camps.
"All Muslim persons, both alien and non-alien, will be evacuated from the above designated area by 12:00 o'clock noon Wednesday, April 8, 2017," the flyer, which includes multiple misspellings and grammatical errors, reads. "No Muslim person will be permitted to enter or leave the above described area after 8:00 a.m., Thursday, April 2, 2017, without obtaining special permission from the Provost Marshal at the Civil Control Station."
The individual who posted the flyers, a UCSD student who kept their name anonymous, claimed responsibility for them in a statement published in a local newspaper. The intention was not to be Islamophobic, the person said. Instead, they intended to "shock and anger people" regarding the rise of Islamophobia since Donald Trump's presidential win.
"The posters were meant to mimic the internment posters because I wanted to shock/anger people and to show them what could happen if they didn't do anything to stop it," they wrote. "It was a warning presented as a possible future."
The Muslim Student Association at the university issued a statement on Wednesday to their members and other students on campus. A representative from the group sent Mic a copy of their statement.
"Despite that we now recognize that the individual who made the posters was well-intended and an ally of our community, we understand that these posters created real fear and tension among our members and members of the Japanese community on campus," the statement read. "The reaction that ensued from our student communities reminds us that internment camps have a very frightening, real, and personal history in this country. These are parts of our past that must be addressed and discussed properly."
UCSD's Muslim Student Association said that they are partnering with the UCSD Nikkei Student Union, a Japanese-American campus organization, to discuss the incident.
"The Japanese community has supported us so much in the past and now more than ever do we realize the importance of having close ties with our allies," UCSD MSA vice president Nadah Feteih said in an email. "We hope to build strong bonds with each other as individuals because the struggles we face and have faced are too similar to be overlooked."
The flyers were discovered one day after Trump announced his plan at a joint session with Congress to sign a new executive order regarding travel restrictions for immigrants from Muslim-majority countries. It also comes on the heels of an anticipated order that would incriminate Muslim civil rights groups.
The University of California - San Diego has yet to respond to Mic's request for comment.
In February, Mic interviewed George Takei, a survivor of the Japanese-American internment camps, about the parallels between anti-Japanese hatred during World War II and anti-Muslim sentiment today.