Ed Sheeran 'Divide' is here: Download and streaming options for the new album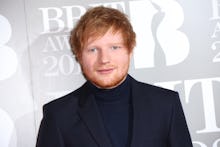 It's been almost three years since Ed Sheeran released his sophomore album Multiply, and the English singer-songwriter has finally returned with Divide.
After releasing several tracks from the record, most recently "Eraser" and "How Would You Feel (Paean)," the artist has given us his final product, now available to purchase and stream online. 
Divide consists of 12 tracks; in addition to those mentioned above, Sheeran has also released "Castle on the Hill" and "Shape of You" from the album.
Where to buy and stream Divide
Divide is available to purchase on iTunes and Amazon Music. For those looking to stream the album, it's currently up on Spotify, Apple Music, and Tidal.
Sheeran recently spoke with NME ahead of the album's release. "I think this year is going to be the high point," Sheeran said. "I have a feeling about it. Seventeen is my lucky number, and everyone I was scared of releasing of albums around me released them all last year — people like Beyoncé and The Weeknd and Bruno Mars."
Mic has ongoing coverage on Ed Sheeran. For more information on the singer check out our Ed Sheeran hub here.