Tribeca Film Festival 2017 Lineup: Cate Blanchett's 'Manifesto' among movies at NY fest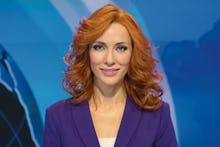 Tribeca Film Festival announced the majority of its 2017 movie lineup Thursday afternoon, breaking the news that movies like Manifesto, starring Cate Blanchett, will be screening at the New York fest.
The announcement includes 82 of the 98 films set for the festival, including films in competition — both narrative and documentary — and those screening outside of the competitive fields. Manifesto is one of the latter, as is The Dinner, starring Laura Linney and Rebecca Hall, which will have its North American premiere at the festival. Hall will appear in two films at Tribeca, also starring opposite Dan Stevens in the relationship picture Permission.
In a conscious choice, Tribeca organizers actually reduced the slate of films by 20% overall. A total of 32 films will screen in the festival's competition section.
The 16th Tribeca Film Festival will take place in New York City from April 19 through April 30. Read the full list of films below.
U.S. Narrative Competition
Aardvark, directed by Brian Shoaf
International Narrative Competition
The Divine Order, directed by Petra Volpe
World Documentary Competition
Bobbi Jene, directed by Elvira Lind
Spotlight Narrative
The Boy Downstairs, directed by Sophie Brooks
Spotlight Documentary
ACORN and the Firestorm, directed by Reuben Atlas and Sam Pollard
Viewpoints
City of Ghosts, directed by Matthew Heineman
Midnight
Devil's Gate, directed by Clay Staub