'The Americans' soundtrack: 13 of the best songs from the FX spy drama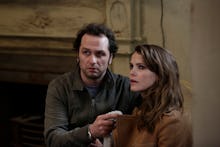 Throughout its four seasons, The Americans has been rightly lauded for its intricate plotting, its on-the-nose re-creation of 1980s Cold War tensions, its layered performances, and — perhaps not quite enough — its soundtrack. 
While a few critics have spoke about some of the music that has made its mark on the series, it's difficult to come across a breakdown of some of the show's greatest selections. So before the fifth season airs on FX on March 7 at 10 p.m. Eastern, we're going to jump back in time to highlight the best musical moments from one of the greatest dramas on TV today.
"Tusk," Fleetwood Mac
There's no easing in to The Americans. In the series pilot, we're placed front and center of the conflict, perhaps most evident by the immediate use of Fleetwood Mac's "Tusk," which appears at both the beginning and end of the episode. We're let in by contagious but ominous drums, which serve to complement the pressure that marks this series about two Russian KGB agents posing as a suburban American family. It's an inherently dangerous job, one that offers Philip and Elizabeth Jennings — played by Emmy-nominated actors Matthew Rhys and Keri Russell, respectively — few moments of levity. By sandwiching the episode with the droning Fleetwood Mac tune we get the sense that the anxiety is never not palpable for the Jennings'
"In the Air Tonight," Phil Collins
The Americans' pilot is not only bookended by the great "Tusk," but it also features another memorable track, one that allows us to rid ourselves of the notion that the drama is entirely about Philip and Elizabeth: The Spies. Phil Collins' sensual "In the Air Tonight" is used to mark the conclusion of a horrific mission and the beginning of a tender and ultimately erotic car sex scene that proves the drama is up to more than it initially lets on. Fake married or not, if you're with someone long enough, if you have kids with them, you're bound to feel something. 
"Siamese Twins," the Cure
If you're going to use a track as moody as the Cure's "Siamese Twins," you'd better know what you're doing. Fortunately, in the eighth episode of its first season — aptly titled "Mutually Assured Destruction" — the song functions to simultaneously show the anger and resentment that has started to form between Elizabeth and Philip, but on a different note to show FBI agent Chris Amador's early suspicions of Martha. This doesn't bode well for him, as we'll see soon enough. "Siamese Twins" operates as the perfect song to close an episode that foreshadows the last devastating third of season one.
"To Love Somebody," Roberta Flack 
It may not seem like the most obvious song choice, but Roberta Flack's "To Love Somebody" is a soulful tune that blends perfectly with one of the first season's most difficult moments. In "Only You," Gregory — the African-American man Elizabeth recruited to help the Soviet Union — decides to essentially commit suicide in order to secure Elizabeth's future (love makes you do crazy things). The scene unfolds slowly with Gregory in a shootout with the cops, and the song highlights The Americans' respect for its characters. The series may have to kill them off, but it won't do it easily. 
"Games Without Frontiers," Peter Gabriel
Peter Gabriel's "Games Without Frontiers" is the perfect closer for The Americans debut season. After introducing us to the Jennings and all the identities they must keep up to be perfect spies for the Soviet Union, The Americans utilizes Gabriel's political satire to call attention to the KGB agents' greatest threat: their teenage daughter. The episode ends with Holly Taylor's Paige Jennings walking into the basement. She's suspicious of her parents and their secrets, and Gabriel's creepy-but-whimsical tune is a reminder of the unseen consequences to the long game the family is playing. 
"It Must Be Done," Pete Townshend and Nathan Barr 
Compared to season one, season two of The Americans isn't that music-heavy. But when we finally get a memorable song in episode 10, it may be surprising to learn that the track from Pete Townshend is an original written for the series. As its name suggests, the song accompanies a vicious moment in the season, when Elizabeth must murder a Pakistani agent in order to secure his second in command's rise to power. It's an efficient kill, done in an indoor swimming pool, and Townshend's sexy but haunting track — a throwback to the 1980s even though it's not from the era — works to emphasize that, at the end of the day, business is business for the Jennings.
"Only You," Yaz
It's too bad that The Americans had to use Yaz's poppy "Only You" for such an uncomfortable scene, but discomfort is what the series does best. Philip is trying to get close to Kimberly, the daughter of a CIA agent, which means he has to do some disgusting things to get her to trust him. So when "Only You" plays, and Kimberly starts innocently dancing to the song, Philip knows that his job is to corrupt that. It doesn't help that earlier in the episode — season three's "Dimebag" — he presents his own teenage daughter Paige with a Yaz record. It's creepy and sad, but even a lovely Yaz track can't stop the Jennings from fulfilling their duties to Mother Russia. 
"The Chain," Fleetwood Mac
The Americans' use of one of Fleetwood Mac's greatest songs is risky, but "The Chain" (released in 1977) is a welcome throwback to the pilot, a reminder that even though it's a pensive, layered drama, the series can still pull off pretty impressive action sequences. When Elizabeth and Philip kidnap an African national, "The Chain" provides the soundtrack. It's a thrilling moment that requires a thrilling song, and it shows that three seasons deep into the series, Philip and Elizabeth are still taking all the risks. 
"Lucky Number," Lene Lovich
Seasons two and three of The Americans may have toned things down a bit in the music department, but season four is as generous with 1980s pop hits as ever. "Chloramphenicol" is a bleak early episode, one that quarantines Elizabeth and Philip in their mentor Gabriel's apartment. All three of them may have been infected with a deadly virus the U.S. government has created to combat the Soviets. Paige, who now knows that her parents are Russian spies, senses something is wrong when they don't come home and immediately grows anxious. As Philip and Elizabeth recover, however, they take their children bowling, and the episode ends with Lene Lovich's upbeat "Lucky Number." Paige is still just a kid, and if Elizabeth and Philip — and Elizabeth especially — want to keep her close, there needs to be more bowling, more fun. 
"Under Pressure," Queen and David Bowie
Four seasons in and the pressure of their jobs is finally weighing on Elizabeth and Philip. In this season, they're juggling their usual heavy load of assignments, but Philip in particular becomes distressed when his main asset, Martha, is put at risk. His mind is caught up with her safety, and Elizabeth — feeling a mixture of jealousy and compassion for her husband's anxiety — knows just what to do to offer some relief. It could be cheesy, but "Under Pressure" is expertly utilized for a passionate and highly intimate sex scene between the couple. They still have each other to rely on. 
"End of the Line," Roxy Music 
It may not be Roxy Music's most memorable song, but "End of the Line" marks a major crossroads in season four. Elizabeth and Philip are burnt out, and Gabriel knows it. He orders them to take a vacation, which leads to the series' big seven-month time jump. "End of the Line" is the end of a chapter for The Americans, and although it has an optimistic sound to it, we know there are several new threats to come. 
"Major Tom," Peter Schilling
Peter Schilling's contagious, electronic "Major Tom," borrowing from David Bowie, plays over two key scenes in season four's ninth episode, "The Day After." The more innocuous one follows Philip giving a stressed-out Paige a driving lesson in his beloved Camaro. It's a scene right out of a John Hughes movie. Elizabeth, on the other hand, is not up to anything so sweet. She's drugged her friend Young-Hee's husband, got him naked in bed, and pretended that they got too drunk and slept together. She's devastated at having to do this, but she does it — like she does everything — efficiently. 
"Who by Fire," Leonard Cohen
Leonard Cohen's "Who by Fire" is the meditative and spiritual closer to season four, a song that illustrates a "your bed has been made and now you have to lie in it" idea. For four seasons, Philip and Elizabeth have pretty much gone about their business unscathed. They've been able to keep their covers and protect themselves and their family. But as we come to see, there are holes, and the season finale's last moments hint at consequences to come. The Jennings have an opportunity to finish their mission, to pack up and go back to Russia. While we can assume — based on the fact that season five is about to kick off — that they stay, there will no doubt be ramifications and a judgment. Cohen's tune foresees this.