These watchdog groups just accused Donald Trump of breaking campaign finance law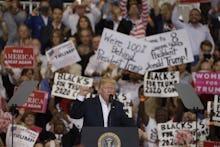 A pair of watchdog groups are accusing President Donald Trump's campaign of breaking federal law by illegally taking contributions after Election Day and falsely reporting them as going toward debt that didn't exist.
The Campaign Legal Center and Common Cause filed a 19-page joint complaint with the Federal Election Commission that alleges the Trump campaign wrongly attributed "millions of dollars in contributions for the 2020 presidential primary election to debt retirement" for the 2016 race — meaning to pay back debt from the election that just ended.
Common Cause vice president of policy and litigation Paul Ryan (not to be confused with the House speaker) said in a statement that Team Trump blew it in a rush to "cash in on an unexpected election victory": 
Campaign finance laws still apply even after you win the presidency and these transgressions, like the President's refusal to release his taxes or separate himself from his business interests, hammer home the point that Trump's campaign promise to drain the swamp in Washington was nothing more than lip service.
The CLC and Common Cause noted that "federal law provides that a candidate may only raise funds after Election Day to retire outstanding debts from the election, or for a future election."
But that's not the whole story. "The Trump campaign ended the 2016 election with no outstanding net debt — therefore, all contributions made after Election Day should have either been refunded to contributors or designated for the 2020 primary election," the statement said.
"By falsely reporting post-election contributions as being for 2016 debt retirement, Trump may be trying to illegally double what a contributor can give for the 2020 primaries," CLC general counsel Larry Noble said in a statement.
The complaint also alleges Trump ran afoul of election law by waiting too long to register for re-election. 
While "a person becomes a 'candidate' when they raise more than $5,000 for an election" and must register within 15 days of hitting that benchmark, the groups said, Trump didn't do so until Inauguration Day, Jan. 20, even though he reached that threshold soon after winning the November election. 
Trump has been vigorously fundraising online and held a campaign rally in Melbourne, Florida, last month. A spokesperson for the campaign could not immediately be reached for comment.