Lorde "Green Light" Lyrics: Every verse to her first new single in three years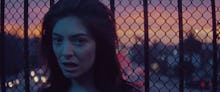 Lorde, the New Zealand native who helped the pop-loving world come to terms with the fact they'll never be "Royals" back in 2013, has returned to music after a three-year absence. After a week of teases, the star premiered "Green Light" — the first single off her long-awaited sophomore album, Melodrama — on Zane Lowe's Beats 1 Radio on Thursday, accompanied by a cathartic music video.
"It's been a couple of years since I've putting anything out," Lorde told Lowe about the new song. "A couple of years since dropping off the radar. It couldn't sound like the old stuff." This track was the one that made everything else she'd written for the record make sense and fall into place, Lorde said.
"Green Light" details Lorde's "first major heartbreak," she told Lowe. Its verses clap back at a lying love interest, before a "new sound" enters her mind and a pulsating dance beat helps elevate the singer to a new, joyous headspace.
In a November 2016 Facebook post, Lorde said her new music aimed to look beyond "enshrining our teenage glory," as she described her previous album, Pure Heroine. "... This record — well, this one is about what comes next."
The song is one of the most personal and confessional Lorde has offered and details her first year of independent adult living.
"I had to tell the truth so starkly to myself and to my friends and people around me," Lorde told Lowe. "It's an amazing feeling."
Read the full lyrics to "Green Light" via Genius and listen to the track below.
[Verse 1]
More Lorde news and updates
Mic has ongoing coverage of Lorde's 2017 reign. Check out the teaser video she dropped leading up to "Green Light," watch the single's video here and check out a roundup of past rumors surrounding her upcoming album along with news about her upcoming Coachella performance.