New York City school staff are now required to call trans students by preferred pronouns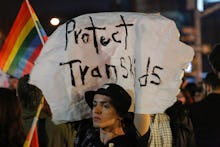 School may be a place for students to learn, but thanks to a new directive from New York City, staff may be learning quite a bit about gender, too. 
According to new guidelines issued this week, New York City public school staff will be required to address students by their preferred pronouns, the New York Daily News reported. 
Aside from using the appropriate male and female pronouns, the guidelines direct staff on how to use nonbinary pronouns like "they" or "ze" and how to support trans and gender-nonconforming children who might experience bullying. A glossary of gender identity terms is also included in the 10-page guidance.
De Blasio's guidelines are the latest signs of his support for transgender people and students in New York City. In June, the city unveiled a subway campaign designed to educate residents about the rights of trans people when it comes to public restroom access. The city also hired its first LGBTQ  community liaison for public schools in 2016 and its first gender-equity coordinator in 2017, according to the Daily News. 
"It's about a safe, supportive and inclusive learning environment," Jared Fox, LGBT community liaison for NYC public schools, told the Daily News. "It's really hard to concentrate on English or math or social studies when you don't feel like you belong." 
New York City's progressive guidance occurred just one week after the Trump administration rescinded former president Barack Obama's historic interpretation of Title IX, which said the federal statute protected transgender students from discrimination, including access to restrooms.