Music will be made by robots in the future, investors are betting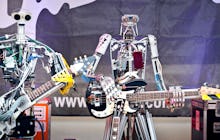 Think your creative skills will protect you from the inevitable robot uprising? Think again. Investors are already making big bets that artificial intelligence is the future for completing not just rote tasks, but artistic ones — namely, composing music. 
Indeed, a company called Amper has just raised $4 million to continue developing AI that creates music, in a funding round involving several investors, TechCrunch reported Thursday. 
Helmed by film composer Drew Silverstein, Amper isn't trying to produce the next White Album: Its ambitions are instead far more modest. Silverstein believes his company can focus supplying original music to the kinds of projects where there's often not a budget to hire real musicians — think commercials and online videos.
You can hear a sample of Amper's robot-made tunes below.
You won't be hearing this stuff at the Grammy's anytime soon, but Silverstein says he sees Amper as a way to help AI collaborate with musicians, not actually replace them. Amper's tool works by letting users input a time, mood and kind of music they are looking for; the software then produces a template track, which a producer could build upon.
Of course, if you're a musician trying to make a living, this all might make you very nervous — understandably so.
In September 2016, Sony's Computer Science Laboratory announced that an artificial intelligence program called Flow Machines had created a pair of tracks, including a Beatles-esque song called Daddy's Car, which the company plans to feature on an upcoming album.
"We're on the verge of a revolution in this field," Fiammetta Ghedini, a researcher at Flow Machines told the music magazine Fact. 
But even musically-inclined Luddites could benefit from the evolving technology, Ghedini argued: Automation can help musicians, she said, by removing a lot of the "busywork" that goes into producing a track.
Most popular music follows a certain format — you usually need a riff, a bridge, and an intro. Ghedini argues that a lot of those elements can be made by a computer, which could free up musicians to be more creative and productive. 
Sign up for The Payoff — your weekly crash course on how to live your best financial life. Additionally, for all your burning money questions, check out Mic's credit, savings, career, investing and health care hubs for more information — that pays off.