Canada Goose claps back after PETA ropes Justin Long into its effort to shame fur wearers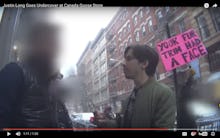 "Justin Long Gets Kicked Out of Canada Goose Store for Asking About Fur Policy," a press release sent out by People Against the Ethical Treatment of Animals yesterday afternoon read.
In the accompanying video from the award-winning actor, Long equates coyote fur to the fur of dogs seen on the street, bluntly alleging that Canada Goose does not seem to care about animal welfare. It's a tactic that PETA and other animal rights activists have used for a long time to play up the immorality of fur manufacturers.
"It seems so cruel to do to an animal," Long says to the blurred-out Canada Goose employee. The employee responds by telling Long that he is not going to have this conversation right now.
According to the video, though curiously not captured on camera, Long was then "removed" from the store.
"Cruelty can be found in every stitch of Canada Goose jackets and other fur-trimmed clothing," PETA alleged in the video's accompanying press release.
In an exclusive statement to Mic, Canada Goose is clapping back.
"PETA and other activist groups misrepresent the facts and use sensational tactics, including celebrities, to try to illicit a reaction," a statement from the brand read. "They have been using the same rhetoric for years." 
Canada Goose continued: 
Such groups attempt to mislead consumers through ongoing attacks that ignore strict government regulation and standards, as well as our commitment to ethical sourcing practices and responsible use of fur and down. We remain deeply committed to the responsible use and ethical sourcing of all animal materials in our products, as evidenced by our Transparency Standards. We do not condone any willful mistreatment, neglect or acts that maliciously cause undue pain, injury or suffering toward animals, and we are committed to providing full transparency about how we make our products. No matter where they're worn, our products are designed and built to protect against the harshest elements and environments on Earth. We understand that some people think animal products should never be used in any consumer products, including food, and we respect that, however we do not share the same view.
It's true, PETA has no proof in any of their allegations their video directs against Canada Goose. In fact, Canada Goose has a third-party audit program (conducted by International Down & Feather Industries) where they certify that their down only comes as a by-product from the poultry industry and not from live-plucked or force-fed birds. 
As for the coyote trappers, they abide by the Trappers Code of Conduct, by which, according to Canada Goose, "They are strictly regulated by state, provincial and federal standards including the agreement on international humane trapping standards."
So while sensationalist tactics — like hiring one of the stars of 2002's Crossroads — may elicit attention, PETA's aggressive tactic of perpetuating unfounded claims delegitimizes their argument.