Lorde "Green Light" Music Video: A liberating ode to the moment heartbreak turns to hope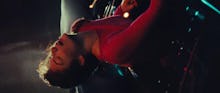 Facing today's uncertain and troubled times, Lorde just wants us all to dance. Thursday, the New Zealand pop star debuted her first single in more than three years, "Green Light," on Apple Music's Beats 1 radio, an unabashedly bold break-up anthem that aims to do far more than weep over lost love. It hones in on that tipping point where the pain finally breaks, and a new beginning finally becomes visible.
It comes with a colorful music video, dramatizing the song's narrative. Lorde sings the first venomous verse, calling out an ex for their lies, while prepping for a night out. When she's ready, she hits the streets, letting betrayal and anger rapidly dissolve away with a series of dance breaks.
The song, her first off her upcoming sophomore LP, Melodrama, is one of the artist's most personal, detailing the experience of her first heartbreak. 
"The song is about those moments immediately after your life changes, and about the silly little things you gravitate towards," she told Zane Lowe of the record. "It sounds so happy, and the lyrics are so intense, obviously, and I realized, 'How is this thing coming out so joyous-sounding?' And I realized: 'Oh this is the drunk girl at the party, dancing around, crying about her ex-boyfriend who everyone thinks is a mess. That's her tonight and tomorrow she begins to rebuild."
The record is the first of a series that will seek to bring some much-needed joy back into pop culture.
"I truly believe in the necessity of cathartic pop records in times like these," the artist tweeted back in January after a particularly "horrifying, anxiety-inducing week of news." 
"I love the big sprawling projects too, but there's something about the falls and lifts of meticulous pop, moments designed for u to feel what u need to, that's more important than ever," she wrote.
The record absolutely delivers on this promise, starting from this place of anxiety and personal trauma and finding that release in a "new sound." As "Green Light" proves, once again, no other artform, or genre, can replicate this transformation with the same surgical precision and unmitigated glee as a deftly-written pop anthem.
Watch the full video below:
More Lorde news and updates
Mic has ongoing coverage of Lorde's 2017 reign. Check out the teaser video the artist dropped leading up to "Green Light" and the news surrounding her upcoming Coachella performance. Read the single's lyrics here, and check out a round-up of past rumors surrounding her upcoming album, Melodrama. 
March 2, 2017, 3:25 p.m.: This story has been updated.