Arby's brings venison sandwiches to NYC — and here's how it tastes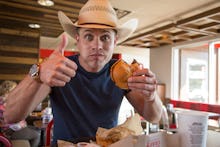 On Thursday just past noon, a line wrapped down 23rd Street, across from Madison Square Park, where the original Shake Shack often has its stake as the longest food line in the neighborhood. Passersby may guess that the New Yorkers taking advantage of their lunch breaks were waiting for the newest Kanye pop-up shop or perhaps a limited-edition bespoke doughnut, but no, the line was pouring out of the street from none other than Arby's. Yes, that Arby's. The second location of the chain restaurant opened in Manhattan on Monday, and the excitement was evident. 
Special to the New York menu are two new breakfast biscuits (only served until 10:30 a.m.), as well as a Classic Reuben, part of Arby's Big City Sandwich specials, meant to appeal to New Yorkers,  i.e. corned beef aficionados.
Perhaps the most appealing menu item for New Yorkers, however, is a limited edition special the restaurant will launch on Saturday and sell until it runs out of supplies to make 1,000 sandwiches: Venison. Also known as deer meat, venison initially hit Arby's menu in select markets in October 2016, to celebrate the start of deer hunting season. The limited-edition sandwich sold out in a frenzy, and even returned to Nebraska this past January for an encore appearance.  
Arby's $5 venison sandwich is made with a 5.5 oz venison steak, which is marinated, seared and slowly cooked sous vide to accentuate the lean meat's tenderness, Arby's brand executive chef Neville Craw explained. Served on a bun with fried onion tangles and a juniper sauce that Craw was initially hesitant to serve to the general public until he saw a similar recipe in Field and Stream. Unlike many Arby's sandwiches, the venison sandwich doesn't have cheese one it, because Craw wanted to keep the menu item "authentic and simple," as similar to a venison sandwich that an actual hunter may eat as possible at a chain fast food establishment. 
While venison could be a sustainable source of protein as urban and suburban populations of deer are often managed (i.e. euthanized) by municipal governments, many restrictions are in place in the U.S. to forbid the commercial sale of game meat. In New York State, as with many states, it is illegal for even those with a hunting license to sell deer or bear flesh. Thus, almost every restaurant serving venison in America imports its deer, often from New Zealand.
Arby's uses red tailed deer from New Zealand, the same meat that, as Craw said, many fine dining restaurants across the country import. The last and perhaps only time I recall eating venison was at a trendy downtown restaurant, The Musket Room, where a New Zealand chef prepared the tender cutlet with juniper berries, just like Arby's! 
Served on a toasted roll, doused in a juniper sauce and topped with fried onions which quickly become soggy (I had no shame scraping them off), the venison meat itself is surprisingly tender. Unlike traditional fast food sandwiches, the meat wasn't overly greasy nor did it feel to processed. Had this been served to me at a fast casual restaurant for twice the price, I'd actually congratulate myself on eating a healthy lunch! Arby's version came with a side of curly fries. The meat itself was a bit chewier than a typical steak, meaning it took a few more chews between my molars before I could swallow it —  a time consuming process for a New Yorker who usually sips soup for three minutes while simultaneously working through her lunch break. 
For a fast food sandwich, the venison steak was good, and based on the lines at Arby's before the limited-edition sandwich even rolled out to New Yorkers, the bambi between bread will certainly sell out if New Yorkers do dare to eat fast food deer.