Snapchat Stock 2017: Here's the latest SNAP stock price following the IPO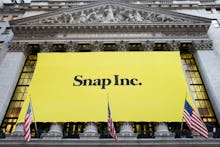 Snap's first day as a publicly traded stock — ticker SNAP — has exceeded expectations: Thursday afternoon, shares in the Snapchat creator closed at $24.48, nearly 50% higher than its initial Wednesday night share price of $17.
Snap's big daily gain is what people in the industry often call a "pop." 
When they're first offered, IPO stock is priced to sell: The goal is to name a price that investors will find attractive (i.e., one that's "low" enough). But companies also don't want the price to stay at bargain levels for long.
As Thursday progressed, SNAP shares rose from $24 to nearly $26, before coming back down to about 50 cents above the opening price.
Over the course of the day, Snap sold 200 million shares of stock, raking in $3.4 billion in the process. As Bloomberg noted, Twitter is the only company in the last five years that's raised more.
Of course, the story of Twitter's stock doesn't have the happiest ending — after selling for $26 a share during its IPO, Twitter stock took a big dip and now sells for less than $16 a share.
Because SNAP shares gained so much value, the company is already worth — on paper — more than household names like CBS and American Airlines. 
In fact, appetite for Snap stock was so strong, many investors accidentally poured money into a completely unrelated company, Snap Interactive, as economist Justin Wolfers pointed out on Twitter.
The fact that Snap's stock popped leads some to suspect that more technology IPOs could be in store as other unicorns — privately held companies worth $1 billion or more — decide to try their luck in public markets.
Of course, not everyone is trying to get in on the SNAP action.
At least one analyst told Barron's that he thinks the stock is worth more like $10 per share, citing a host of factors from inexperienced management to slowing growth.
In what was perhaps a subtle nod to his detractors, Snap CEO Evan Spiegel told the Los Angeles Times that it would take an "education process for the next five years," to properly explain to the general public how his company creates value. 
Sign up for The Payoff — your weekly crash course on how to live your best financial life. Additionally, for all your burning money questions, check out Mic's credit, savings, career, investing and health care hubs for more information — that pays off.