Read Al Franken's letter about why Jeff Sessions' excuses don't add up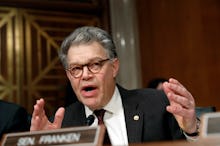 Attorney General Jeff Sessions recused himself on Thursday from investigating ties between President Donald Trump's campaign and Russia after it was revealed that the then-senator met with Russian Ambassador Sergey Kislyak twice in the run up to the election. But Sessions didn't resign for apparently misleading Congress during his confirmation hearings — something a lot of legislators are calling for. 
During his press conference yesterday announcing his recusal, Sessions mentioned the confirmation hearing question that elevated this scandal to the point of potential perjury. Sessions, however, batted away the allegation that he lied during his hearing — by mischaracterizing the question he was answering at the time. 
That question had come from Sen. Al Franken. And the Minnesota senator is determined to get answers.
In a letter sent to Sessions' office on Thursday, Franken detailed exactly why the attorney general's claims don't quite make sense. 
First, Franken took on the meeting between Sessions and Kislyak on the sidelines of the Republican National Convention in July 2016. "The notion that this conversation, which took place during your party's nominating convention, would not have touched upon issues related to the campaign strains credulity," Fraken wrote.
Then Franken went on to raise similar concerns about Sessions's second meeting with Kislyak, which took place in Sessions' private Senate office in September.
Despite ongoing public debate about Russia's involvement in the hacking of American political organizations, an issue of national importance and a topic widely discussed at the time of your meeting, a Justice Department official is quoted as saying "[t]here's just not strong recollection of what was said" during that exchange. However, a Justice Department spokesperson also claimed that the meeting was in no way related to the 2016 presidential election. The fact that these statements are at odds with one another only raises suspicion about the content of your conversations. Moreover, even if your private meeting with Ambassador Kislyak was conducted in your capacity as a member of the Armed Services Committee, I find it hard to believe that you would not have discussed Russia's efforts to interfere in the election.
Franken concluded by saying telling Sessions, "If it is determined that you lied to the committee and the American people under oath during your confirmation hearing, it is incumbent upon you to resign from your position as attorney general."