Who's Valerie Jarrett? What to know about Obama's top confidant and reported new roommate.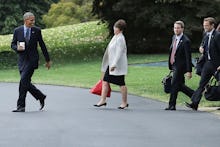 Valerie Jarrett, longtime senior adviser to former President Barack Obama, has moved into the new Obama mansion, British tabloid publication the Daily Mail reported. 
The Obamas made the move from the White House to a nine-bedroom, eight-and-a-half-bathroom home in the wealthy Kalorama neighborhood of Washington, D.C.
There, Jarrett and Obama will reportedly work together to exert political influence against Donald Trump's presidency. 
Jarrett has been by Obama's side since the beginning, helping to launch his political career in Chicago. Referred to as "the Obama whisperer," political insiders have been awed at the extent of her influence, as Obama, particularly during his tenure in the West Wing, sought her counsel on a wide range of issues. 
From foreign policy negotiations to choosing guests for the first lady's box during the State of the Union, Jarrett is rumored to have had a say in most major decisions. 
"Her role since she has been at the White House is one of the broadest and most expansive roles that I think has ever existed in the West Wing," Anita Dunn, Obama's former communications director, told the New Republic in 2014.
Jarrett was reportedly one of the driving forces behind the bold decision to send then-Attorney General Eric Holder on a mission to Ferguson, Missouri, as civil unrest percolated after the police-involved shooting of black unarmed teenager Michael Brown. 
She was also behind the decision to include sweeping contraceptive coverage for women under the Affordable Care Act, Obama's signature legislation, which ruffled a number of centrist feathers in the administration, from people who sought to minimize controversy among religious and conservative enclaves. 
"Valerie Jarrett, the Obamas' first friend, [was] the proposal's chief patron and a tenacious White House operator who would ultimately outmaneuver not only [chief of staff, William] Daley but also the vice president in her effort to include the broadest possible contraception coverage in the administration's health care overhaul," the New York Times reported in 2012.
Her staying power has been part of the allure. Jarrett outlasted many top aides and repeatedly came under fire by insiders who expressed concern over how much influence she had during the Obama administration years — influence she will undoubtedly continue to wield as the former first family's roommate.
Clearly effective as colleagues, but even more endearing as friends: