This Week in Reproductive Rights: "Choose Life" vanity plates, "junk science" and more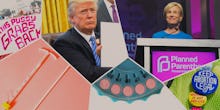 In top-line reproductive rights news, legislators in Indiana are hell-bent on forcing doctors to promote a supposed "abortion reversal" procedure that isn't supported by medicine or science. 
According to the Washington Post, the Indiana House of Representatives on Monday passed a bill that would require doctors to inform patients receiving medication or chemical abortions — which rely on two pills to work — that there's a way to go back on their decision to terminate a pregnancy.
The bill would mandate doctors to introduce the option of "reversing" the procedure after the patient takes the first pill, which blocks progesterone, the hormone that prepares the uterus for pregnancy. The second pill, it's worth mentioning, is administered days later and effectively triggers an early miscarriage to empty the uterus.
Some physicians claim that if they inject the patient with progesterone before they take the second pill, it will counteract the first pill's effects and salvage the pregnancy. 
Doctors who believe in the so-called "abortion reversal" procedure cite a 2012 research paper published in the Annals of Pharmacotherapy that found four out of six women who received the progesterone shots went on to have healthy babies. But the American Congress of Obstetricians and Gynecologists said there are several obvious problems with the study that make its findings unreliable, from a too-small sample size to the fact no ethics review committee oversaw or evaluated it.
And, of course, there's the simple fact that some 99% of women don't regret having an abortion — which means it's unlikely they're going to change their minds in the middle of receiving one.
Democratic Rep. Linda Lawson called the medical practice "junk science" in an interview with the Associated Press and called on her colleagues to stop trying to legislate women's bodies.
"This is not a political event, ladies and gentlemen," she said. "This is between doctors and their patients."
Here's what else you might have missed:
• International parties continue to defy President Donald Trump's "global gag order," with various groups and countries convening to raise nearly $200 million to fund reproductive health care worldwide. The "She Decides" conference in Belgium united 45 countries, whose collective donation of $190 million makes a dent in the $600 million needed to cover the cost of Trump's order over the next four years.
• On Wednesday, a lengthy debate in the Tennessee legislature ended with lawmakers delaying their decision on a heartbeat bill that would ban abortion after about six weeks. Such maneuvers have proved unsuccessful elsewhere, given they represent glaring violations of Roe v. Wade, which guarantees a woman's right to an abortion through the first trimester. As Tennessee Right to Life president Brian Harris put it: "Running legislation that is documented to be unconstitutional by the Supreme Court is not a good use of our time."
• On Monday, Texan legislators introduced S.B. 25, which would protect OB/GYNs who withhold crucial information from patients about fetal development and health. The bill would bar parents from suing a doctor who detected a fetal abnormality and concealed it, resulting in a baby born with disabilities. This effectively allows doctors to lie to patients they suspect are abortion amenable, with potentially disastrous results.
• A new study from the Guttmacher Institute found that birth control is more effective than ever, with failure rates falling from 2006 to 2010. "We're seeing declines in abortion rates; we're seeing declines in birth rates," study co-author Kathryn Kost told NPR. "So we know that American women are not getting pregnant unintentionally at the same levels that we had been observing."
• In other birth-control news, a Silicon Valley startup has designed a free app that would deliver birth control, Plan B and PrEP right to your door without a visit to the doctor or pharmacy. Cofounder Hans Gangeskar said the service will be especially helpful to minors, who often have the hardest time accessing contraceptives, as well as residents of more rural parts of the country.
• The Nebraska Senate voted to advance a bill that would require the state's Department of Motor Vehicles to design and issue "Choose Life" license plates. If it passes, Nebraska would join 28 other states that currently offer the custom plates. Among them are North Carolina, whose general assembly voted in 2011 to block pro-abortion rights messages like "Respect Choice" from appearing on license plates.