Pizza Hut's "Killer Deals" ad to commemorate a Taiwanese massacre infuriates customers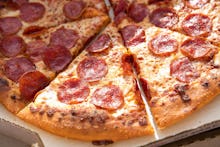 Some brands just don't know when to stay on the sidelines. 
In Taiwan, Feb. 28 is a somber day on which citizens reflect on the "228 Incident," a reference to mass protests and beatings from the government. But the marketing mavericks at Pizza Hut thought this day would be perfect for a pizza party. 
In a Facebook post, Pizza Hut Taiwan asked customers if they were "ready to celebrate Feb. 28?" and used the phrase "killed it," Taiwan News reported. 
Thousands of commenters slammed the promotion. One person wrote on Facebook that the ad was "cold-blooded" and didn't respect the victims of the 228 Incident, according to a Google translation. Over 750 people liked their comment. 
"Celebrate what? Celebrate force against civilians? Celebrate... the whole generation of Taiwanese elite was slaughtered?" another commenter wrote. "I dare you, Pizza Hut, to celebrate 9-11 in the U.S., or to celebrate the slaughter of Jewish people in Germany. I dare you."
After the commented got heated, Pizza Hut commented under the post with an apology. People began a thread on Pizza Hut's apology and continued to criticize the company. 
"I used to go to Pizza Hut with friends often, but what you did today is really awful," Facebook user Yiting Wang posted, according to Time. 
Food companies in the United States have made similar blunders on somber national holidays. In September, a Wal-Mart in Florida set up Coca-Cola boxes in a display that looked like the twin towers to commemorate 9/11, Mic previously reported.  
Let's hope Marketing 101 classes in all countries begin with the lesson that it's never OK to create replicas of buildings felled by terrorists with your products nor use the word "killer" to advertise on the day of a massacre.