Homeland Security in N.C. says anti-Trump protests are the real driver of "terrorism."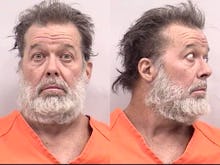 The Department of Homeland Security has discovered domestic terrorism in our midst. It's not anti-Muslim violence. It's not anti-Semitic threats. And it's not in the rising tide of white nationalism.
It's all of those anti-Trump protesters who are mad at the Republican party.
A new report by the North Carolina intelligence officials and the Department of Homeland Security blames anti-Trump protesters and sentiments as a driving force, the Intercept reports. Unfortunately, the report ignores actual instances of racist vandalism and white extremism.
"DHS assesses that anger over the results of the 2016 presidential election continues to be a driver of domestic terrorist violence throughout the United States — as evidenced by rioting in Portland, Ore., following the election and violence and destruction of property in Washington during the inauguration," the report says.
As the Intercept points out, the report builds a specter of terrifying left-wing violence against the Republican establishment but fails to point out any other kind of domestic extremism. While portraying incidents of anti-GOP vandalism and defacing websites as evidence of terroristic threat, it makes no mention of Islamophobic, xenophobic or anti-semitic incidents, including directly analogous instances of racist vandalism.
North Carolina has a reputation as a hotbed of white extremism and has been the ideological training ground for a number of famous Christian identitarians and Klu Klux Klan leaders. The most recent of these violent North Carolina-grown shooters is Robert Lewis Dear, who shot up a Planned Parenthood in Colorado, killing three and injuring nine.
Since the beginning of 2017, over 100 threats have been made against Jewish centers, some in North Carolina, leading to the closures of schools where Jewish children learn and play.
Advocacy groups for persecuted minorities, like the Anti-Defamation League and the Council on American-Islamic Relations, have put out regular calls for the Trump administration to turn its attention to the threat of domestic terrorism and hate crimes.
"Unfortunately, it is President Trump's own policies, appointments and statements that have contributed to the mainstreaming of Islamophobia and anti-immigrant rhetoric," CAIR National Executive Director Nihad Awad said in a recent statement.
Then again, CAIR's weekly pleas to end Islamophobic violence and threats here at home will fall on deaf ears among right-wingers. After all, conservatives say CAIR is a terrorist group, too.