How to get a medical marijuana card in every state: The definitive guide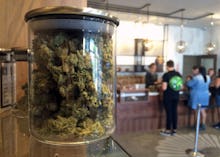 Because of marijuana's dicey political status — legal in some states, yet outlawed at the federal level — getting your hands on cannabis products can mean a lot of paperwork. In many cases, it's confusing just trying to figure out if you qualify for a medical marijuana program, let alone what steps to take when applying for patient status.
So here's everything you need, in a comprehensive state-by-state guide. Note: If your state isn't on this list, then there's currently no legal way for you to procure or possess marijuana or extracts like cannabidiol, or CBD. Sorry! You'll just have to keep checking back.
Alaska 
If you're over 21 years of age, forget about the weed card — you can stroll right into a shop and buy pot today. That said, legal retailers only began to open toward the end of 2016, so they can be hard to come by. If you're under 21, you'll have to fill out a brief application, collect a doctor's statement about your debilitating condition, and pay $25 to the Alaska Bureau of Vital Statstics, Marijuana Registry. Under 18? You can still apply, but only with a parent or guardian's signature. Finally, the application requires a state ID or driver's license, as well as a witness for when you sign and date the document. The card gives you the right to buy weed at medical dispensaries and to cultivate your own plants.
Arizona  
Here you'll need quite a bit more money and medical detail: The state charges $150 annually for the marijuana card (unless you're on SNAP or food stamps, in which case it charges $75), and the doctors who can recommend you typically charge $75 to $150 for each yearly appointment. You're also only eligible if you suffer from one of several "qualifying conditions" that tend toward the very severe: cancer, ALS, post-traumatic stress disorder, etc. Aside from that, you need a state ID or driver's license and proof of Arizona address. If your doctor doesn't submit your application directly, you can do that here. 
Arkansas
Arkansas is brand new to medical marijuana, and it's still proposing rules for how to register as a patient. But the current draft mentions "qualifying conditions" that would presumably be similar to Arizona's.
California 
Legal recreational weed won't be sold until 2018, so in the meantime, it's still a medical marijuana state. Getting a doctor's recommendation is incredibly simple, though. You don't even need a California ID; any form of U.S. identification will do. As for the actual doctor part, you can go to your regular physician or visit one who specializes in marijuana recommendations. For the latter, you fill out some forms, pay about $40 and tell them what marijuana helps you with — whether that's back pain, insomnia, or migraines — and they can clear you to buy at dispensaries. If that's not easy enough, you can actually do the same thing online — for about the same price — and have the card shipped right to you. Once 2018 rolls around, you may want to renew your medical card just the same, since recreational weed is likely to be taxed at a much higher rate.
Colorado
Anyone with a valid ID that proves they're over 21 can buy weed at Colorado's hundreds of weed stores. If you want to buy weed from its hundreds of medical dispensaries, you're looking at a pretty short list of qualifying conditions. You can submit your application and physician's certification via mail or, if you live in the present like the rest of us, via the internet.  
Connecticut 
A longer list of qualifying conditions — but for those under 18, only the most extreme cases are eligible. After you have a physician's certification (which requires a phone number and valid email address), you'll still need proof of identification, Connecticut residency, and a current passport-sized photograph. To top it all off, there's a $100 fee. The good news is you can do it all online. 
Delaware
Delaware has just one marijuana distribution center, in Wilmington. To get in, you'll again need a qualifying condition and doctor's recommendation; patients under 18 need certification from a pediatric specialist. Other than that, it's the usual sort of application, requiring a Delaware or federal photo ID to verify residency — plus $125. There's a separate application to waive this fee.    
District of Columbia
To apply for a marijuana registry ID in Washington, D.C., you need documentation backing up a primacy care physician's diagnosis of your qualifying condition as well as a written, authenticated recommendation for use of cannabis from a doctor licensed in D.C. The application also requires a passport-style photo, a government-issued ID, and proof of District residency. The fee is $100, or $25 if you can prove financial hardship. 
Florida
Down in the Sunshine State, meeting a qualifying condition isn't quite enough to get you medicinal marijuana: You also have to prove, with medical records, that you've tried more "mainstream" remedies for your illness. Bring this documentation to a physician approved by the state, who will examine you and determine whether you qualify for the program. Alternatively, you can let them prescribe traditional pharmaceutical drugs to establish that they're ineffective in your case. Once they approve marijuana treatment (and you demonstrate that you're a Florida resident, with an ID or other paperwork) — you're entered into the Compassionate Use Registry and can expect your card in the mail.
Georgia
Currently, Georgia only allows the use of "low THC oil" — marijuana extract short on tetrahydrocannabinol, the psychoactive chemical that gets you high. Patients must have a qualifying condition, or be the parent or legal guardian of a child or adult with a qualifying condition, and the entire application (a medical records waiver and a certification) is processed through your physician. Only people who have been state residents for at least a year are eligible, so a state ID card is a must, and the Low THC Registry Card itself costs $25.
Hawaii
The state of Hawaii only accepts marijuana registry applications submitted online. You'll need a physician's certification that you suffer from one of the debilitating conditions listed here. A driver's license, state ID or passport is a must, and you're also required to submit a correct mailing address, which most definitely should be in Hawaii itself. The fees for a 329 Card, as it's called here, add up to just $38.50.
Illinois
Illinois lets you apply for its marijuana registry online as well, but there are a few more unusual hoops to jump through: Within 30 days of submitting your application, you must complete and pass a fingerprint background check that flags certain drug-related felony convictions. Anyone who holds a school bus permit or commercial driver's license — or is an active duty law enforcement officer, correctional officer, probation officer or firefighter — is automatically ineligible. The state sticks to the usual qualifying conditions and physician's diagnosis; patients have to be over 18 and able to prove they live in the state. One-year, two-year, and three-year cards cost $100, $200 and $250, respectively, but that could drop to $50, $100 and $125 if you're a veteran or receive Social Security Disability Income or Supplemental Security Income.  
Iowa
So far, Iowa has only approved cannabidiol (or CBD), a non-psychoactive chemical found in cannabis, for medical use — and in just a few hundred cases. The program is also set to expire in July, even while families urge for its expansion. Permanent state residents with intractable epilepsy or caregivers for such patients may qualify for a Cannabidiol Registration Card — no other condition is accepted. Along with information from a primary caregiver, applicants must submit a recommendation from their neurologist.  
Maine
Recreational weed is legal in Maine as of January 2017, though it'll take nine months or more to get a regulatory system in place. Unusually, medical marijuana patients aren't required to register with the state (though caregivers still do). You still need a physician to certify that you meet an eligible condition — any M.D., D.O. or C.N.P. can write this recommendation.   
Maryland
There's no way to join the state's medical marijuana patient registry just yet, but that's meant to change in the coming weeks, so stay tuned!
Massachusetts
Massachusetts has been a land of legal recreational pot since December 2016, but for the better part of the coming year, it remains illegal to sell weed to anyone other than a medical marijuana patient. To get a weed card, you first need certification from a licensed physician that you have one of a fairly broad set of qualifying conditions that includes anxiety, chronic back pain and insomnia. Once certified, you'll get a patient PIN and instructions about how to register with the state, which you can do online. At that stage, you'll need a valid ID that proves Massachusetts residency, a photo of yourself and $50 — though that fee is waived if you can demonstrate financial hardship.  
Michigan
Fairly straightforward: You can find and complete the application here. You'll need a valid ID (if it's not from Michigan you need to prove residency with your voter registration card) and a physician who can certify that you meet a qualifying condition. The patient fee is $60, with another $25 on top if a caregiver is applying with you. Patients under 18 need all that plus a second physician's certification and proof of parentage or guardianship.
Minnesota
Another list of qualifying conditions, which as of Aug. 1, 2017, will include post-traumatic stress disorder. Once you're certified by a health care practitioner, you can register online using your state ID as well as government assistance plan ID, if you have one (excluding Medicare). You also need to complete a patient self-evaluation in applying. The annual fee for the card is a steep $200.
Montana
Here you'll need a physician's certification as to your debilitating condition — notably, admittance to hospice care qualifies — as well as a Montana-issued ID. If you wish to cultivate marijuana or manufacture marijuana products on a property you rent or lease, you'll also need your landlord's signature. The application fee is an eminently reasonable $5.   
Nevada
Like California, Nevada voted in November 2016 to end the prohibition of marijuana for adults 21 and over but won't have recreational weed retailers until 2018. For now, you'll still need a qualifying condition. As opposed to most other states, however, in Nevada a doctor can certify you over video chat — Presto Doctor is a service that starts at $69 per appointment. The application for the card itself can be completed online, provided you're able to scan and upload images of your state ID. (You can also request an application by mail by completing a different application.) Patients of any age are eligible, but an applicant may be rejected if they have a prior conviction for sale of a controlled substance. Both initial registration and annual renewal cost $75. While you're waiting for your card to arrive in the mail, you can use your "letter for use" in order to purchase cannabis. It's worth pointing out, too, that Nevada recognizes medical marijuana cards from out of state, so if you're a patient visiting from elsewhere in the country, you should have no trouble buying from a dispensary.
New Hampshire
New Hampshire requires that medical marijuana patients have both a qualifying condition and one of a number of qualifying symptoms — both listed here — in order to be eligible for the program. A physician or advanced practice registered nurse licensed in New Hampshire, Maine, Massachusetts or Vermont must attest to both in a written certification, and they should be primarily responsible for the care related to your qualifying condition. The patient (or, in the case of a minor, a parent/guardian caregiver) has to be a New Hampshire resident, but you may prove residency without a state ID. There is no background check to pass. You'll have to provide a digital photo for use on the card, and the application fee is $50. 
New Jersey
Patients must be assessed by a physician in the medical marijuana program and diagnosed with an approved debilitating condition. That doctor will complete an attending physician statement, which upon submission will produce a patient reference number. Using that number, the patient can register online with a passport-style photo, New Jersey-issued ID, proof of state residency and proof of government assistance, if applicable (it means the difference between a $200 or $20 application fee). Minors are eligible with parent or guardian approval, and caregivers must pass a background check.
New Mexico
Complete this application, and have your provider fill out the medical information section, which certifies that you suffer from an approved debilitating and chronic condition. The state recommends that you include supplementary medical records about your diagnosis when applying. Apart from that, you'll just need a New Mexico ID. There's a separate Personal Production License application for those who want to cultivate their own plants. The entire process is free of charge.
New York
Patients first need a certification of a qualifying condition from a physician who is registered with the state Department of Health's marijuana program. Then they can create a NY.gov ID to register themselves online. Proof of residency and identity are required. Later on, there's a $50 charge that can be waived in cases of hardship. Up to two caregivers may be designated during this process, and after the patient is approved, they must register as well.
North Carolina
North Carolina has a CBD oil law on the books that exempts individuals with intractable epilepsy from criminal penalties for use and possession of the extract, as long as they have the approval of a neurologist affiliated with a state hospital. But since the same law does not permit the production or sale of CBD products within the state, there is currently no framework for easy legal access. 
North Dakota
Details of North Dakota's medical marijuana program are still up in the air. Although 64% of voters approved of it in November 2016, lawmakers have delayed its implementation and are attempting to severely limit its scope. In any event, the state is unlikely to see a dispensary until later in 2017.  
Ohio
As of September 2016, Ohio became a medical marijuana state, but the rules and regulations about applying for the program haven't been settled yet. There is a list of qualifying conditions, however, and this site will keep Ohioans up-to-date on how they can eventually obtain a marijuana card.
Oklahoma
Like North Carolina, Oklahoma has protections in place for certain patients who use CBD oil, but there's no path to access these products in-state. 
Oregon
Individuals who are 21 or older may purchase products from marijuana retailers in Oregon. The state still has a medical program, however. To join, complete a patient application with proof of residency and government-issued photo ID (the same application is used to secure grow site permission) and have a physician certify your debilitating medical condition. There's a separate form to fill out if the patient is a minor. The cost to apply is $200, but $60 if you're on SNAP, $50 if you receive Oregon Health Plan benefits and just $20 if you're on Supplemental Security Income or served in the armed forces.
Pennsylvania  
Pennsylvania is in the process of setting up its medicinal marijuana program. As with many other states, it looks like you'll first need a physician's certification of your qualifying condition, at which point you'll be able to register with the state as a patient. 
Rhode Island
Have your doctor complete a practitioner form certifying the condition that makes you an eligible marijuana patient. Then you can register with the state by providing proof of state residency, a minor form (if applicable), and a $50 fee (or $25 with proof of Medicaid, SSI, SSDI, Veterans' Disability or Federal Railroad Disability benefit). Patients are also permitted to designate an authorized purchaser to help them obtain marijuana from a dispensary — they may reside out of state but can only assist one patient and must pass a National Criminal Identification Check. 
Tennessee
Tennessee allows the possession of CBD oil that has been obtained legally in another state but offers no method of regulation or access within its borders.
Texas 
Texas has strict limits on its new medical marijuana program. Only permanent residents of the state with intractable epilepsy are considered eligible, and to certify them, a physician must have already tried two FDA-approved treatments to no benefit. A second physician has to concur with their determination to recommend marijuana. Even then, patients may only lawfully purchase non-smokable cannabis products that are low in THC, or tetrahydrocannabinol, weed's notoriously psychoactive chemical. Patients won't have to register with the state, however, as physicians will enter their information on the Compassionate Use Registry. You can keep up on where and when dispensaries are expected to open here. 
Utah
In 2014, Utah became first state to implement a CBD oil-only program, though the state refers to it as "hemp extract." Only patients with intractable epilepsy are eligible for the hemp registry, and they need certification from a board-certified neurologist to complete the application, as well as supply a patient medical history. Utah ID, proof of residency and a $200 fee are also required. Children under 18 need a parent or guardian to complete the application.
Vermont
Vermont residents may apply to the state's medical marijuana program with the diagnosis of a debilitating condition. Unless the condition is new or sudden onset, you must have a "bona fide" patient-doctor relationship of at least three months with the physician who completes the Health Care Professional Verification Form. (The physician may also be licensed in New Hampshire, Massachusetts or New York.) Applicants must prove residency with a Vermont-issued ID, supply a photograph and pay a $50 fee.
Virginia
Currently, Virginia law allows patients with intractable epilepsy to avoid a conviction (though not arrest) for possessing low-THC cannabis oils, namely CBD oil. There is no way to legally procure it within the state.
Washington
Adults 21 and older can purchase and possess recreational marijuana in Washington. To become a medical marijuana patient, you need an authorization form completed by a health care practitioner. Take that form to a medically endorsed marijuana retailer, and they should have a consultant on staff who can enter you into the authorization database. For a $1 fee, you'll get a card that entitles you to buy marijuana tax-free, purchase three times more weed than the recreational limit allows and cultivate cannabis plants.
Wisconsin
Wisconsin offers narrow protections for patients with seizure disorders who use CBD products under a physician's recommendation, but there is no application process to become a patient, nor a way to legally access such drugs.