It wasn't just Sessions who met with the Russian ambassador. It was Jared Kushner, too.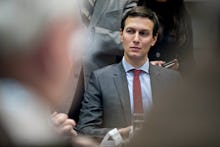 Attorney General Jeff Sessions is under fire this week for taking a meeting with Russian Ambassador Sergey Kislyak during election season.
But Sessions isn't the only one who met with Kislyak. Adviser and Trump son-in-law Jared Kushner also met with Kislyak in December at Trump Tower, the New York Times reports. The meeting was 20 minutes long, and White House spokesperson Hope Hicks told the Times that Kushner has not met with the ambassador since.
While it's not uncommon for advisers and those close to the executive office to meet with foreign diplomats, the various meetings between Russian envoys and Trump advisers has fallen under increased scrutiny given the possibility of an investigation into potential Russian interference in the 2016 presidential election.
Sessions was forced on Thursday to recuse himself from the Russian interference investigations, but that's not enough for some. Dozens of Democrats are demanding Sessions' full resignation from the Department of Justice.
"Coretta Scott King warned us not to trust Jeff Sessions," Rep. Yvette Clarke (D-N.Y.) tweeted Thursday. "He should resign from the Justice Department immediately."