Trump: "Jeff Sessions is an honest man" and Democrats "have lost their grip on reality"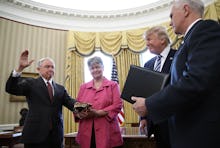 "Jeff Sessions is an honest man. He did not say anything wrong," President Donald Trump said in a four-part Twitter statement Thursday night, defending his attorney general, who is currently under fire for allegedly lying about meeting with Russian officials. During his Senate confirmation hearing, Sessions denied any contact with Russia; however, a damning Washington Post report Wednesday night revealed he met with Russian Ambassador to the United States Sergey Kislyak in September. 
"He could have stated his response more accurately, but it was clearly not intentional," Trump added. The president instead described his administration's latest scandal as a "witch hunt" by the Democrats, who have "lost their grip on reality" because they cannot accept their defeat in the presidential elections.
"This whole narrative is a way of saving face for Democrats losing an election that everyone thought they were supposed to win," he continued. "The Democrats are overplaying their hand. They lost the election, and now they have lost their grip on reality. The real story is all of the illegal leaks of classified and other information. It is a total witch hunt!"
Sessions reportedly met with Kislyak during the height of Russian's alleged cyber attack on the Clinton campaign, a directive from Russian President Vladimir Putin, who sought to manipulate the American elections, U.S. intelligence officials told NBC News in December.
Democrats and Republicans alike called for Sessions' recusal from a Justice Department investigation into the White House's ties to Russia. Sessions recused himself Thursday, but has given no indication he plans to resign. Trump's Twitter statement regarding his attorney general suggests the president will support Sessions through this imbroglio, rather than push him out of the administration.
Democratic all-star Sen. Elizabeth Warren, a fiercely vocal critic of Trump and his camp, argued in a series of tweets it behooves Sessions to resign. Furthermore, she added, this latest development is cause for an independent investigation into the nature and extent of the relationship between the Russian government and the current administration.
"This is not normal," Warren wrote.