Trump administration wants to cut most of EPA's climate protection program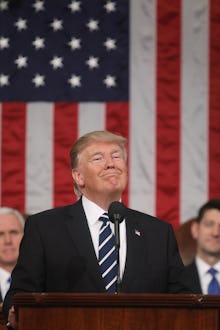 The White House wants to cut an Environmental Protection Agency climate protection program by 70%, reducing its funding to $29 million, a source familiar with the Trump administration's proposed budget told Reuters on Thursday. 
The program aims to reduce greenhouse gas emissions like methane, one of the most potent of these gasses and 21 times more harmful than carbon.
The news comes three days after the Trump administration announced its budget proposal Monday, which seeks to increase military spending by 10%, or $54 billion. Senior officials indicated the increase in spending would come from dramatic cuts to crucial agencies like the EPA and the State Department. 
The source read the proposal to Reuters, which reportedly included a 30% cut in federal grants to states for lead clean up, amounting to a meager $9.8 million. 
There would also be 30% cuts to grants focused on helping Native Americans minimize pollution. Trump already strained relations with the Native American community when he facilitated the continuation of the Dakota Access pipeline construction on Jan. 24, which the Obama administration halted. The pipeline would cut under Lake Oahe in Standing Rock Sioux tribe's sacred land located near their reservation. 
Overall, the Trump administration is proposing a 25% cut in the EPA's budget, to $6.1 billion, and a 20% cut in its staff, equal to 3,000 employees.
Before his address to Congress Tuesday, the president also nullified former President Barack Obama's "Clean Water Rule," designed to protect fragile water sources from coal mining, describing it as "one of the worst examples of federal regulation."
Trump has systematically undermined the EPA and its efforts to combat climate change. He appointed Scott Pruitt, who formerly questioned the reality of climate change, to head the agency, asked for a list of people who worked on climate change under Obama, instituted a gag order on EPA employees and told the agency to scrub the climate change page from its website — to name a few. 
Targeting the EPA in the administration's attempt to divert funds for the military comes as little surprise. While the Trump administration must get Congress' approval for its budget, the Republican majority will not likely protect the EPA given the party's history of denying and questioning climate change.