Remy Ma, Nicki Minaj Feud: Twitter has mixed feelings about "Another One" diss track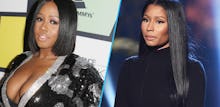 We're one week into the Nicki Minaj and Remy Ma rap beef and it's hard to tell whether it will fizzle out sooner than later. Remy launched her second attack, called "Another One," Thursday night, declaring her opponent "deceased" on the cover art. Listen below:
Nicki Minaj has yet to release a recording to respond to Remy's first diss track, "ShETHER," which set social media ablaze Saturday morning. Let's not forget that what prompted Remy's initial response was Nicki Minaj's verses on Gucci Mane's "Make Love" last week. 
So far Remy's second attempt has been receiving mixed reactions from hip-hop fans. Some think Remy Ma should hang up her gloves because "Another One" is not as strong as "ShETHER." Meanwhile, others believe Nicki Minaj should give hip-hop culture a comeback, and is letting her followers down by not responding.
These rap fans appreciated "Another One" and what it represented:
These other hip-hop fans started the hashtag #ThatWasTrashRemy to express their distaste with "Another One":
Remy Ma isn't the first rapper to release back-to-back diss records, and we're not just referencing Drake's rap beef with Meek Mill in 2015. Rapper the Game previously put out a whole mixtape in 2005 dissing 50 Cent and his G-Unit rap crew as well.
Nicki Minaj did have a low key response to Remy Ma's first diss track. She posted a recording of Beyoncé calling her the "rap queen" to her Instagram account. As of now, Minaj is nowhere near a studio. She was last seen shooting a music video with Future and also sitting front row at Paris Fashion Week.
Mic has ongoing music coverage. Please follow our music hub here.