7 most ruthless disses from Remy Ma's second Nicki Minaj diss track "Another One"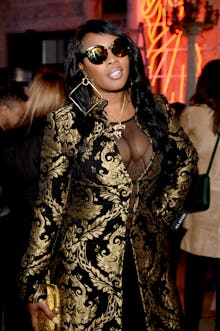 It seems Remy Ma didn't get under enough of Nicki Minaj's skin with her last diss track "ShETHER," released Saturday. Five days later, late Thursday, Remy went in again, borrowing one of DJ Khaled's famed taglines — "Another One" — for its title.
"Where the fuck is your song? I mean, come on," Ma raps on the track, trying to bait Minaj into the ring. "You know the pub want some bars, I'm Remy Ma." 
The song's cover is a savage reinterpretation of one of Minaj's recent Instagram posts, showing the pop rap starlet lying splayed on a bed. Remixed with a little blood splatter, police tape and a platinum record plaque, Ma turns it to a crime scene.
To add just a little more venom to her dagger, Ma shared the new track alongside an old dug-up photo of Minaj on Instagram, so fans could compare the before and after. "B4TheButtJob' Ma wrote in the since deleted post, captured by the Shade Room.
The only response Minaj has offered so far to this beef, which stems from a long, roiling tension between the two rappers, is a deleted Instagram post tracking Remy Ma's sales figures, and then another of Beyoncé singing a light tune calling Minaj a rap queen. 
At this point, this is all we'll likely see from the rapper for one reason: Minaj is too big to fail. However, thinking back to 2016, Drake managed to get diss tracks in on Meek Mill before the Philly rapper cut his first response, "Wanna Know."
On the whole, "Another One" isn't nearly as brutal or as long as "ShETHER," but it still brings the heat at times. Check out out the seven most cutthroat bars below:
Güerito, I ain't sparrin' with you bozos/
Ma compares Minaj to boxer Miguel Cotto, famed victim of Mexican boxer Antonio Margarito, who was caught using illegally hardened glove wraps in 2008. He beat Cotto bloody before the referees found the tainted wraps.
Heard you was kiddin', sayin' I ain't havin' none/
A play on the line Minaj spit on her 2010 Pink Friday track "Did It on 'Em" — "All these bitches is my sons." It's also the line Ma accused Minaj of stealing from one of Remy's jail tweets, detailed on "ShETHER."
You gotta go, you gotta go, lil hoe/
Dead, dead and deader.
I beat you with punches in 48, you Ronda Rousey
The once-undefeated Ronda Rousey famously tried to make an epic comeback at the end of 2016, only to suffer a brutal, bloody loss to Amanda Nunes in 48 seconds.
The wigs and nose, you a whole clown, B
Ma mocks Minaj's Pink Friday look book, which saw Minaj really leaning into the neons, pastels and zany wigs in her attempts to break into the pop world. It's also one more plastic surgery shame, this time for Nicki's alleged nose job, following the flood of them that Ma poured out "ShETHER."
Put blood in your head, leave your whole damn head red, Lil Yachty
One last bloody turn of phrase, this time relying on the shock-red braids of Lil Yachty for vivid visual effect.
I'm waitin' for a bitch to talk outta her neck/
"Bet you wonderin' how I know your problems?" Ma raps earlier in the song. "It's a lot of people that you really bothered/ They was sellin' footage and you know I bought it." Ma ends the song reminding Minaj of that fact, saying she's got pictures, videos and texts, seemingly of all the compromising things the star has done in her attempts to summit rap. The tabloid writers of the world are undoubtedly drooling over their keyboards in anticipation.
Mic has ongoing music coverage. Follow our main music hub here.