New report reveals 25 UCLA employees accused of sexual harassment between 2013 and 2016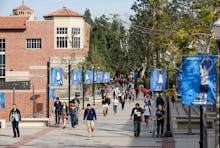 A new internal report on sexual harassment at California state universities found that 25 University of California, Los Angeles employees had been accused of some form of harassment or assault between 2013 and 2016, making up nearly a quarter of the 113 cases investigated across 10 campuses in that three-year period.
According to campus newspaper the Daily Bruin, of these 25 incidents, 12 resulted in dismissal, resignation or the non-renewal of a contract. However, many of the faculty and staff involved in the remaining cases may have seen consequences such as suspension, fines, no-contact orders, demotion or sexual assault training.
The report — which has only been released to select outlets — revealed former dean and professor Joseph Lewis had a total of 26 sexual harassment allegations levied against him and was found responsible for a number of them. He resigned in 2014.
Another revelation included findings that professor emeritus Eric Gans had pursued an unwanted romantic relationship with a graduate student, who lost out on educational opportunities because of Gans' advances. He resigned the same year as Lewis after settling a lawsuit with UCLA.
Other incidents detailed in the report involved an employee in the school of dentistry sexually assaulting an intoxicated student, a cook from the UCLA medical center repeatedly groping a female's buttock and a former employee at the university's school of management taking photos up coworkers' skirts, for which he received a three-year prison sentence.
"Most of the cases included in this records release were investigated and adjudicated under policies and processes that are no longer in effect," UC spokesperson Claire Doan told the Daily Bruin. "Over the past two-and-half years, UC has taken steps to significantly change, and improve, the way such cases are handled."
Doan cited "enhanced confidential support for complainant and resources for respondents, new adjudication protocols and mandatory training" as part of the school's new system-wide policies combatting sexual harassment and assault on campus.
However, just two months ago students argued the university still wasn't doing enough to protect students from alleged sexual predators.
In January, protests broke out on UCLA's campus when history professor Gabriel Piterberg returned to teach class following a suspension for allegedly sticking his tongue in the mouths of two students.
After Chloe Pan, a co-director at the Bruin Consent Coalition, learned Piterberg would be back on campus for the Winter 2017 term, she tweeted, "Shame on you, @UCLA. What happened to zero tolerance?"
According to UCLA's website, Piterberg is still employed at the university and teaching two classes this term.
"He's a tenured professor," Sophia Arim, another co-director at the coalition, told Mic at the time. "I don't know what the nitty-gritty details are of removing a tenured professor, but there should be a policy that says you will be fired if you commit sexual assault."