This German high school now bans Muslim students from praying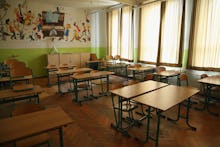 A high school in Germany has banned Muslim students from praying in public.
In February, Gymnasium Johannes Rau school in the western German city of Wuppertal posted a memo on Facebook to faculty and staff asking them to identify and report any Muslim student praying while on school grounds to the administration, Al Jazeera reported.
"In the last few weeks, it has increasingly been observed that Muslim students are praying, quite visibly to others, indicated by ritual washing in the bathrooms, the rolling out of prayer rugs, and by the students putting their bodies in certain positions," the memo read, according to German news site the Local. "That is not permitted."
After receiving backlash, school administration officials admitted the memo included poor word choices, but doubled down on banning public prayer. It said the school is allowed — legally — to prohibit "provocative" prayer.
"Banning provocative praying in the school's public space should promote peaceful coexistence and peace within the school," a school official said.
News of the Wuppertal high school banning Muslim prayers comes during a heated debate about refugees and Muslim immigration in Germany. Under Chancellor Angela Merkel, Germany took in 890,00 asylum seekers in 2015. Alternative for Germany, the far-right populist party, has centered its campaign around Islamophobia to gain more support. According to Al Jazeera, the Alternative for Germany has called the high school's prayer ban a "sensible" measure.
Now, as Merkel seeks a fourth term in office, hoping to gain support from her Christian Democratic Union Party, the German chancellor has announced her support for a burqa ban — further questioning what religious freedoms are at stake for Muslims in Germany.