'Pokémon Go' Snorlax Event: Man behind the update pays thousands to catch Lapras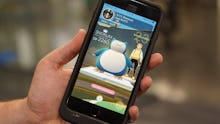 Earlier this week, we found about a limited-time Pokémon Go event in Japan that would bring increased Snorlax spawns to the Kumamoto region, perhaps in order to increase tourism after a recent earthquake. Rumor has it that the event was brought on by Dr. Katsuya Takasu, a famous Japanese plastic surgeon with plenty of money to burn.
No, really, the guy has more money than he knows what to do with.
Pokémon Go Snorlax Event: Man pays $2,600 to catch Lapras in Japan
On a Japanese celebrity variety show, a segment focused on Takasu's efforts to catch the powerful water dragon Pokémon Lapras. The segment starts about 48 minutes into the video.
In the video, Takasu takes a taxi to rent a helicopter just to catch the rare Pokémon. All in all, he apparently paid around $2,600 just to expand his Pokédex. Pokémon Go is enormously popular worldwide and millions of people are dedicated to hunting down the virtual critters, but most players don't have the kind of disposable income Takasu has. 
There are arguments to be made here about fiscal responsibility, but Takasu is living his best life. That's admirable no matter how you spin it.
More Pokémon Go guides, tips and tricks
If you're booting up the game for the first time in a while to get ready for Gen 2, be sure to check out Mic's guides on how to get stardust, how to determine how long it will take you to reach level 40, the kind of Pokémon you get from 10km eggs, how to create new PokéStops, how to maximize your chances of catching Pokémon and how PokéStops distribute Pokémon eggs. Also check out how to catch Gen 2 baby Pokémon, our analysis of post-balance update Chansey and Rhydon and everything you need to know about finding the long-awaited Pokémon Ditto.