Watch this MP obliterate another who said women "must earn less" because they're inferior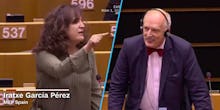 Sexism took center stage in European Parliament on Friday after one Polish lawmaker tried to argue that women "must earn less [than men] because they are weaker, they are smaller, they are less intelligent."
The man, Janusz Korwin-Mikke, was immediately shouted down by a female MEP, the BBC reports.
"Look, according to your theory, I should not have the right to be here as a member of this parliament," Spanish Socialist Iratxe Garcia-Perez shot back. "And I know it hurts you, I know it hurts and worries you that today women can sit in this house and represent European citizens with the same rights as you."
"I am here to defend all European women from men like you," she continued.
According to the BBC, European Parliament's Rules of Procedure state that MEPs' conduct "shall be characterized by mutual respect" and mandates that they "shall not resort to defamatory, racist or xenophobic language or behavior in parliamentary debates." 
An investigation into whether or not Korwin-Mikke violated those rules with his comments is currently being conducted.
The Polish lawmaker is no stranger to controversy. According to the Independent, he has previously used the n-word to describe black people, and once claimed that women's politics are shaped by the men they sleep with because semen "penetrates the tissue." The BBC reports that Korwin-Mikke was suspended from parliament for 10 days in October 2015 after he made a Nazi salute in the chamber.