What Melania Trump wore in her sixth week as first lady — all 4 times we saw her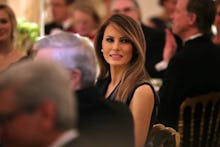 It's been 42 days since Melania Trump has assumed the title of first lady of the United States of America. Forty-two days and 15 appearances (three during week one, none during week two, three during week three, four during week four, one during week five, and four this week, tying her record).
It's safe to say at this point that Melania Trump is shaping up to be one of the most reclusive first ladies ever.
But while she's said and done little over the course of these six weeks, her fashion choices have spoken volumes, from Jackie O-inspired Ralph Lauren on Inauguration Day to Givenchy on Air Force Once to Michael Kors before Congress, Trump's love of fashion (pre-dating her time — albeit limited — at the White House) is more apparent now then ever.
For week six, this is what she wore: 
Sunday, Feb. 26: A floor length black gown for the Governors Dinner
To the annual Governors Dinner, held in the in the East Room of the White House, the first lady opted for a floor-length black gown.
We'd love to show you more of the dress — designer unknown — but Trump was not photographed standing up, therefore rendering that difficult to follow through on. 
Tuesday, Feb. 28: A cinched-waist Valentino for a bill signing.
To watch her husband sign into law two bills (H.R. 321 and H.R. 255, both aimed at recruiting women in STEM careers), Trump donned a cinched-waist, flutter-sleeved Valentino dress. The price tag on the crepe mini dress: $2,950.
"Made in Italy," reads the description of the dress worn by a woman whose husband later that evening would decry before Congress: "Buy American and hire American."
Tuesday, Feb. 28: Glittery Michael Kors for her first appearance in Congress
For her first appearance before Congress, in stark contrast to the sea of white throughout the room displayed on Democratic women, Trump chose a a black glittery embroidered Michael Kors jacket and skirt. 
Both pieces are from Kors' ready-to-wear collection, available online for nearly $10,000 (the floral-embroidered stretch pebble-crepe dinner jacket retails for $4,995 and the sequined-floral front-slit pencil skirt for $4,595).
"Mrs. Trump has been a longtime client at our New York boutique," Michael Kors said in a rare statement to Vanity Fair. "She has a keen understanding of what works best for her and her lifestyle. My embroidered black suits reflects the streamlined glamour that she is known for."
Thursday, March. 2: A black and blue ensemble to New York Presbyterian Hospital
On Thursday afternoon, Melania Trump made her first solo appearance as first lady, visiting visiting New York Presbyterian Hospital's pediatric wing to read the Dr. Seuss classic Oh, the Places You'll Go! to sick children.
Trump wore a royal blue sweater with black trousers, a black peacoat and matching black heels.
"I came to encourage you to read, and to think about what you want to achieve in life," she told the children according to the New York Times.
The big takeaway here with regard to clothing: Both Melania and Ivanka Trump are not keen on adhering to Donald Trump's "Buy American" decree — at least when it comes to fashion.
You can see previous fashion recaps of Melania Trump here. 
March 3, 2017, 1:56 p.m.: This post has been updated.