Nintendo Switch Unboxing Video: Watch us dig into Nintendo's cool new console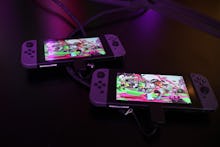 The Nintendo Switch is finally here. After months of waiting, we got our hands on Nintendo's new home-console-handheld-hybrid device, and we're ready to shed its protective shell on camera for your viewing pleasure.
Nintendo Switch unboxing video
Check out the video below and read on for a reminder of what the Nintendo Switch has to offer.
Nintendo Switch unboxing: What's in the box?
The Nintendo Switch only comes in one configuration at launch: For $299.99, you get the console with 32 GB of internal memory, the two Joy-Con controllers, the dock, the Joy-Con Grip and all the necessary charging and HDMI cables. Unfortunately, it doesn't come with a game, so you'll have to pay more if you want to do anything with it besides gawk at it.
At launch, the lineup of games is admittedly pretty slim. The Legend of Zelda: Breath of the Wild is the lone heavy-hitter, and it does indeed hit heavy as one of the most universally praised games in many years. Other than that, the gimmicky mini-game collection 1-2-Switch could be the the Switch's Wii Sports if not for the fact that it's a separate purchase rather than a pack-in.
Aside from that, you can jam out with Just Dance 2017 or blast your friends in Super Bomberman R. There are also a handful of neat-looking downloadable indie games on the eShop right now and coming in the near future as part of the Nindies program.
Games aren't the only hidden costs with the Switch. The Xbox-like pro controller accessory seems essential for long gaming sessions, but it's a separate $69.99 purchase. If you want to use the Joy-Con grip while playing games on your TV, you should know that the one packed in with the console won't charge the Joy-Con controllers. You'll have to spend $29.99 for the official charging Joy-Con grip. And 32 GB is not a lot of space for modern video games, so at some point you might want to buy a Micro SD card, which the Switch supports for capacities up to 2 TB. Finally, you might want to buy a carrying case if you plan on traveling with it.
Check out more Nintendo Switch news
Looking for more Nintendo Switch news? Check out our comparison photos sizing up the Switch to the Wii U GamePad (part one and part two) and the best way to get alerts when new stock arrives. Then take a look at a leaked video of the Nintendo Switch menu interface and dark mode features.